Dan Heffner '78, best known for his work as an executive producer in the "Saw" film franchise, will return to Ithaca College next week as a Park Alumni Professional in Residence.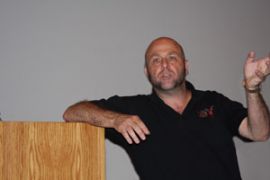 Heffner, a communications alum, has become a regular alumni visitor to the Roy H. Park School of Communications, offering lectures and mini courses. This year, rather than his usual weekend-long visit, Heffner will spend Feb. 5 to Feb. 10 working with Park School students.
Diane Gayeski, dean of the Park School, said she is thrilled to have Heffner at the college for an extended period of time.
"Mr. Heffner had a break in his very busy professional schedule and offered to come here for a week," Gayeski said. "It allows him many more opportunities to meet with faculty and students, speak in several classes, etc."
Heffner's agenda will include teaching between eight and nine classes to Park School students about producing and the filmmaking process. Heffner will also offer a campus-wide presentation at 4 p.m. next Friday in the Park Auditorium.
April Johanns, external relations coordinator in the Park School, said students can also schedule 30-minute individual meetings with the producer.
"I'm also setting up one-on-one meetings with students that either want to present a project that they're working on or have an idea or just want to pick his brain," Johanns said.
Michael Belmonte, a sophomore television-radio major, is participating in the Park School Alumni Mentor Program this semester and was paired up with Heffner.
"A lot of it is getting advice from him, getting tips, finding out what this industry is really about," Belmonte said. "He's doing exactly what I want to be doing. He's the man."
The presentation next Friday will boast multimedia elements and the showing of exclusive movie clips from Heffner's two upcoming productions, "Knights of Badassdom," a film that follows live-action role players and their misadventures, and "Cobu," a 3-D movie about star-crossed dancers that are forced to become rivals.
"Cobu" is the second 3-D film Heffner has worked on; he was also the executive producer of "Saw 3D: The Final Chapter," released in 2010 — the seventh feature film the franchise has produced since 2004.
Gayeski said Heffner's experience with different types of media make him a perfect example of a modern producer and filmmaker.
"Mr. Heffner is a talented and generous alum who can share expertise in new technologies such as 3-D, as well as more traditional subjects like effective scriptwriting," Gayeski said.
Belmonte said he is excited to meet and learn from Heffner in person next week.
"He's a great wealth of knowledge, and I'm looking forward to trying to absorb as much as I can," Belmonte said.