Ithaca College is not generally considered a vibrant hip-hop music scene. But last night, as part of the college's recognition of Black History Month, the campus welcomed Wes Jackson, founder of the Brooklyn Hip-Hop Festival who has spent 15 years as a hip-hop entrepreneur, to discuss the history of the genre through his own personal experiences.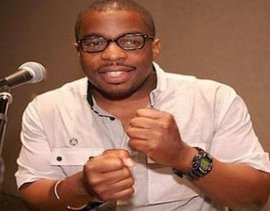 Jackson made his debut in the music industry by producing concerts for artists and bands such as Nas, the Roots, Dave Matthews Band and De La Soul. In addition to being the founder of New York City's largest hip-hop cultural event, which emphasizes community building, social change and the role of hip-hop in a larger society, Jackson is a lecturer in the City University of New York school system.
Staff Writer Bernadette Javier spoke with Jackson about how he got into hip-hop and how the genre has changed over time.
Bernadette Javier: How did you first break into the music business?
Wes Jackson: I started in the music business as an undergrad at the University of Virginia. I used to book concerts for them, like The Roots and The Dave Matthews Band — doing a whole range of things. And then, eventually, since I'm originally from New York, I moved back to New York and started working for a small record label. Then I started my own, and the rest is history.
BJ: What made you go into the hip-hop business and establish the Brooklyn Hip-Hop Festival?
­
WJ: I'm from a certain age. The very first song that I can remember was "Rapper's Delight," and it is literally a hip-hop style. I grew up in a club probably a couple of blocks away from where the whole nation was founded and what some could argue as where hip-hop started, so it encompassed everything I did. That's where we lived to breathe.
BJ: How much would you say the hip-hop genre has changed since its early beginnings?
WJ: It's changed tremendously. I compare it to a child. When I started, hip-hop was just born as a young kid who couldn't walk, couldn't talk, couldn't stand right or feed itself. And that was 30 years ago, and now hip-hop is a grown man alone, it's a grown person. It was once a hobby, and it's probably the most creative, artistic force in years. I don't know — you could go on and on about how it's changed.
BJ: What are the common misconceptions about hip-hop today?
WJ: The number one misconception about hip-hop is the racial aspects of it. People think that hip-hop is black and not only black but black males. To many people, hip-hop means aggressive, hypermasculine, hypersexual black males. But the reality is that hip-hop — from the very first moment — was not all black, not all males, not violent. Hip-hop is actually more diverse. It is the most American thing.
BJ: Where would you like to see the genre go in the future?
WJ: More progression — the "big problem" right now is that there's not enough creativity because there's just too much money on the table that it's been a bit commoditized. It's been a bit placated, almost subdued. It's like a drug, you know, you're once very vibrant and doing things, and now we're all stuck on heroin or something. Now, everything has slowed down. That's what I don't like. More people need to take more chances, and if you just want the money and power, let's put something new out there.