Two New York Supreme Court decisions last week heralded a victory for local citizens that proved individuals who band together through political action can overpower corporate interests.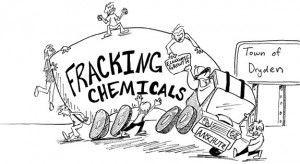 Each state Supreme Court judge ruled the Town of Dryden and the Town of Middlefield, respectively, were within their municipal rights to ban hydraulic fracturing and gas drilling.
Within the past year or so, Ithaca residents and those from surrounding towns like Dryden and Danby brought passion to town meetings and demanded that oil companies stay out of their backyards. As seen in the Dryden and Middlefield case, a general resident stance on fracking greatly aids in arguments against corporations that say permits in towns should be designated by the state.
More states should take notice of the central New York action and view fracking through a hyperlocal lens that focuses on towns and cities rather than the state at large. While the desire for economic recovery and build-up is a valid reason to let corporations drill on state land, the environmental and health impact for people who live and work within smaller zoning districts should always trump economic interest.
The argument is no longer money versus the potential for harm, as impacts of fracking can already be seen in many U.S. states. Some Pennsylvanians who live near fracking sites have had their drinking water supply so heavily poisoned by chemicals used to drill for natural gas that their water can be lit on fire.
Some argue those effects are not related to the drilling process, as a University of Texas study recently found that there is no direct link between groundwater contamination and fracking. While researchers and activists still search for the truth, the fact remains that many states are seeing certain water and air contamination that wasn't present before gas companies used the hydraulic fracturing technique on their land.
Water contamination has concerned many who fear consequences for their health and their homes. If more states rule for towns and cities to decide on a fracking stance themselves, more people can help prevent unwanted drilling invasions where they live and have more say in America's democratic process that penetrates deeper under the surface of state politics.