The West Tower will join East Tower next fall as part of the First-Year Residential Experience, a shift that marks a step toward more unified freshman housing on campus.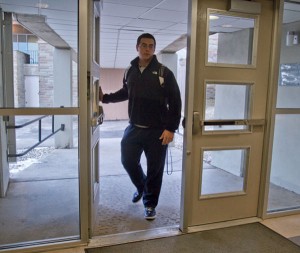 The expansion comes partially as a result of IC 20/20's Initiative 4: First Year Housing and Learning Communities to Increase Integrative Learning. Following East Tower's first-year designation last semester, West Tower will be the fifth building in the First-Year Residential Experience, along with Boothroyd, Tallcott and Rowland Halls in the Upper Quads.
Bonnie Solt-Prunty, director of Residential Life and assistant dean for First-Year Experiences, said the idea of unified housing for all freshmen preceded IC 20/20. However, its inclusion in the plan has helped foster progress. First-year housing is optional for now, but will become mandatory in the future, once Residential Life converts enough buildings on campus to hold an entire class. This scenario, which would incorporate more of the quad buildings, is still a few years away,
Solt-Prunty said.
"There will be a progression for students through housing. 'I'll come in as a first-year student. I'll live in a first-year residence hall building. As a sophomore student, I'll have a choice to either live in a learning community or a sophomore experience building. And then as a junior and a senior, I'll have the opportunity to live in apartments primarily, or other areas which may be of interest,'" she said.
Solt-Prunty said she doesn't think the shift to all-freshmen Towers will upset many upperclassmen.
"That is not the most popular place for our returning students to sign up in," Solt-Prunty said. "Typically, our returning students are looking to live in the Terraces or in Emerson or in the apartments, for the most part."
Sophomore Michael McBride lived in first-year housing last year and currently works as a resident assistant in East Tower. He said he understands the advantages of freshman housing, but said he hopes it remains optional in the future.
"I lived in Tallcott. It didn't help me, didn't hurt me," McBride said. "I felt like I would have had a much better time if I lived with upperclassmen or a variety of ages because you're able to meet more people and socialize, and you're able to learn from other levels."
Sophomore Isaac Ford participated in Experiencing Connections by Heading Outdoors, the Jumpstart program that focuses on outdoor learning. He said he enjoyed the opportunity to meet other freshmen but was glad to live in a multilevel dorm for the rest of the year. He said many of his friends loved living in Rowland Hall and flourished in that environment, but first-year housing was just not what he wanted.
"I feel like freshman housing provided too exclusive a group for people," Ford said. "There was not enough room to branch out and meet people besides freshmen."
The development of this plan will also impact the residential learning communities in the long term.
Nancy Menning, faculty fellow for the Sustainably
Conscious Residential Learning Community, said specialized communities are an opportunity to grow and meet people with similar interests.
"All the dorm communities have that kind of feeling to them," Menning said. "There is something about the college experience for an undergraduate that is part of funding these kinds of living communities as ways to understand the transformations that are going on for people's identity and community and family and those kinds of things."
The expansion to the Circle Apartments, which includes an addition of 168 beds, will also affect student housing next year, Solt-Prunty said. All the new apartments will be four-person residencies, which will allow more upperclassmen to remain on campus.
Solt-Prunty said the changing plan will enhance the
student experience on campus and offer a sense of progression throughout students' four years at the college.
"It makes a lot of sense to create this more developmental progression where as an underclassmen, you're living in more traditional housing, and, as an upperclassmen, you're living in more independent, apartment-style housing. That's what our students want to do naturally anyway," she said.