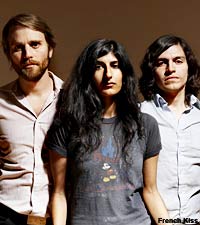 Lately, I've really been getting into this band called The Big Sleep. The Brooklyn bunch packs some serious power with their discography. My area of focus is primarily on their latest album, Nature Experiments, which just dropped at the end of January.
As is true with most modern LPs, synthesizers play a significant role, but they are mostly used as undertones on this record. The real energy comes from heavily distorted guitars that reverberate throughout the tracks. The group alternates between male and female vocals, which provides for a nice contrast throughout the album as a whole.
Watch the slightly creepy video for my favorite song, "Valentine," below.