The Ithaca College baseball team scored at least one run in each of the first six innings on its way to a 14–0 victory against the Keuka College Storm Friday in the first game of the season on Freeman Field. The Bombers, ranked 20th nationally, are now 8—3 on the season.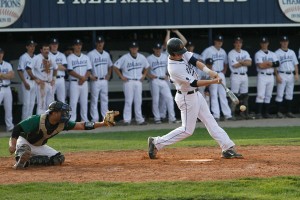 The pitching staff led the way against Keuka as five different pitchers combined to hold the visiting Storm to just one hit on the day. Freshman John Prendergast started for the Bombers and pitched five innings of perfect baseball. Senior Tucker Healy, senior Ian Rebhan, freshman Quinn Irwin and junior Ian Gaule each pitched one inning as well. Seven different pitchers took the mound for the Storm and surrendered a combined 17 hits.
Eleven different Bombers scored a run, but the key to the game was the mistakes made by Keuka College. The pitchers gave up seven walks and hit six batters along with three errors committed by the defense. Keuka College Head Coach Mike Barry said such giveaways and inexperience contributed to his team's loss.
"That's what our pitchers need to focus on, not giving away free bases," he said. "The bottom line is, we had young players out there against the 20th ranked team in the country and our guys can't prepare for that."
Ithaca College Head Coach George Valesente praised his team's continued focus despite the wide margin.
"They didn't back off, play flat and just go through the motions," he said. "They maintained their intensity and gave the game the dignity it deserves."
Before the opening pitch, Director of Intercollegiate Athletics and Recreational Sports Ken Kutler presented Valesente with the game ball from his 1,000th career victory along with a notebook full of messages from former players and coaches expressing their appreciation of Valesente's career.
The Bombers return to action 1 pm Sunday on Freeman Field against SUNY-Oswego.