For a quarter it seemed as if the upstart men's lacrosse team would give the third-ranked SUNY-Cortland Red Dragons a run for their money. Then Cortland took control and ran the Bombers off the field in the visitors' 9-3 win yesterday at Higgins Stadium.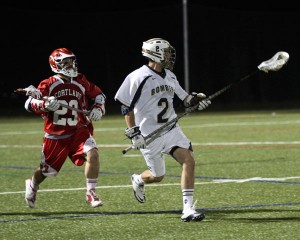 Senior attack Tom Mongelli gave the Blue and Gold the lead with 1:02 left in the first quarter with his nineteenth goal of the season. The South Hill Squad would not score again until midway through the fourth quarter and suffered their first defeat of the year.
After being shutout in the first quarter, Cortland scored the game's next nine goals as junior midfielder Taylor Mendoza and freshman attack Matt Rakoczy each scored twice. Cortland's dominance can be attributed to them winning 13 of the 16 faceoffs in the game as well as recovering 11 more groundballs than the Bombers.
Senior goalie Brendan Green said that Cortland's extended possessions made goals inevitable.
"We were playing a lot of defense and having a lot of shots and eventually they're going to start to fall," Green said.
The Bombers were outshot 15-2 in both the second and third quarter but only trailed 3-1 at halftime. Four Red Dragon goals in span of 2:34 early in the third busted the game wide open. During that span, the Blue and Gold never held possession of the ball.
Despite being dominated for stretches, Head Coach Jeff Long saw enough out of his team to believe that this season could be a special one.
"We didn't play much offense and played too much defense but I think we saw the start of something that can turn really special," Long said. "If we had the ball more I think we could of scored a few more goals.  We saw some kids step up off the bench.  We struggled with face offs early and put [freshman midfielder Matt Greenblatt] in there and he did a good job."
The Red Dragons will play fifth-ranked Rochester Institute of Technology this Wednesday while the Bombers will host SUNY-Oswego at noon Sunday. Senior defender Marc Roberts said that he is well aware the Lakers will be excited.
"Our game tomorrow is the game they thrive for, if they beat us they think they really accomplished something we got to come out there and show it to them," Roberts said