The women's lacrosse team defeated the St. John Fisher College Cardinals 8-3 today at Higgins Stadium to remain undefeated in Empire 8 Conference play.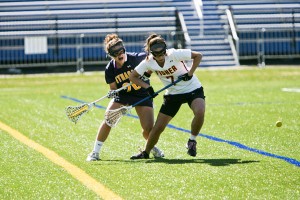 The Bombers got off to a slow start and fell behind the Cardinals early 2-0, but then the Blue and Gold posted eight of the game's last nine goals. The South Hill squad held Fisher to its lowest goal count in over six seasons.
Midfielder Kim Armbruster said the Bombers' defense set the tone for the rest of the team.
"Defense is a particularly difficult position to play and they get the least recognition," she said. "[Senior midfielder] Siobhan [Sullivan] is our leader back there. Her aggression is contagious and makes our defense so much more willing to take risks."
Senior attack Nicole Borisenok moved to fourth all-time at Ithaca with 191 points and had a career-high four assists on the day.
The Bombers, winners of three straight contests, improved to 9—5 all-time against the Cardinals since the two teams' first meeting in 2001. Junior midfielder Kaityln Hoffay, junior midfielder Nikki Dahl and sophomore attack Becky Guzzo all had two goals while junior attack Tracy Rivas and Ambruster had one goal apiece.
Ambruster said the Bombers are making practices feel like game situations to try and maintain the team's current success.
"We continue to work hard every day and try to make practice seem like real-game situations," Armbruster said. "The coaches have formed a rivalry between the offense and the 'D', which forces us to push hard and challenge each other. We don't go easy on one another in practice, which gets us ready for the competitiveness and aggressiveness we see in other teams in games."
After the win, senior midfielder Siobahn Sullivan said the team realized the importance of these games against Empire 8 conference opponents
"We really need to win these next few conference games if we want to host the conference tournament at the end of the year," she said.
Ambruster said this game was not only important for the end of the season, but also for the team's new coach, Shannon McHale, who was Fisher's Head Coach for the past ten seasons.
"We wanted another win today because it means we're one step closer to hosting the Empire 8 tournament, which is really important to us," Ambruster said. "We also wanted to prove to Coach that she made the right decision in becoming a Bomber."
The Bombers will travel to Hartwick for a 1 p.m. game Saturday in Oneonta, N.Y.