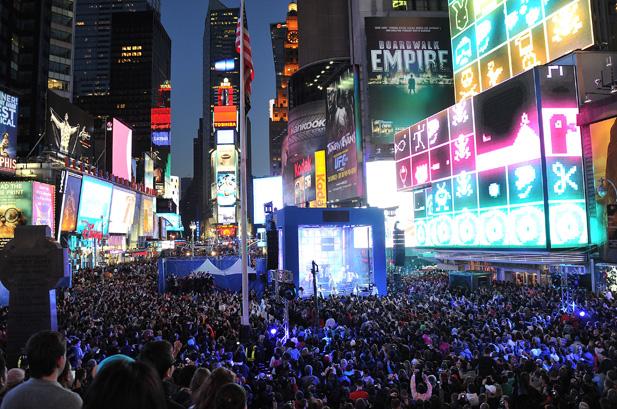 Nokia and Nicki Minaj created a spectacular spectacle last night, doubly launching the Lumia 900 phone with a surprise performance coinciding with her Roman Reloaded album release. The mini-performance ended with an exclusive "Starships" remix that saw Times Square transformed into a huge canvas of lava lamps, dancing figures, and other trippy visuals.
I'm a huge sucker for events like these that involve Times Square's LED monitors as art rather than just advertising space (Down with Capitalism! Boo! Hiss!), and all things neon in general. The mystery stage was curtained up beforehand with only a  ticker counting down to whatever the event would be, with no announcements made beforehand. About a thousand people turned out to see what was going to happen, and they certainly weren't disappointed. On top of that, the crowd got to be the main feature of the premiering remix's music video. Now that's capitalism that I can get behind.
The video doesn't show her earlier performance of Starships, Right By My Side or Super Bass, which can be found here, but the monitor mojo turned out very sexy indeed. Be sure to check it out in 1080p!