With Rick Santorum's announcement Tuesday to drop out of the GOP race, President Barack Obama is turning his campaign sights not only to frontrunner Mitt Romney, but also on gaining political support from the younger generation.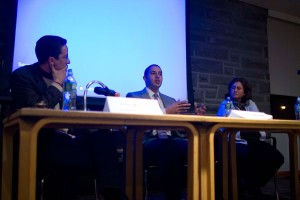 Obama's 2008 presidential win was primarily supported by a young constituency — 61 percent of his voters were between the ages of 18 and 29. According to a recent Pew study, 63 percent of young voters are supporting Obama in the 2012 election, but this doesn't mean America's young adults are making it to the voting booths.
In an effort to get students at Ithaca College more involved with national politics and interested in the upcoming election, IC Democrats and Created Equal co-hosted an event Tuesday to educate students on why they should vote and how to convince others to register to vote.
According to Pew data, 49 percent of voters ages 18 to 29 approve of the president's performance in office, down 24 points since February 2009.
However, Obama has made strides to interest student voters, such as focusing on student debt solutions. In February, the White House held a conference call with college and university journalists about making college more affordable for Americans.
The event on campus involved a panel of speakers, which included City of Ithaca Mayor Svante Myrick and associate politics professors Juan Arroyo and Patricia Rodriguez. Junior Rob
Flaherty, president of IC Democrats, acted as the panel's coordinator and asked panelists why students would elect not to vote and how to incorporate students in politics.
There was a general consensus among the panel members for increased student engagement within politics. Myrick said students need to be driven by an issue to vote, and many of them haven't experienced or connected with the issue that will drive them to become politically involved.
"Those who plan to vote, those who turn out to vote, vote because they are motivated by something," Myrick said.
When Flaherty asked panelists if the U.S. should enforce compulsory voting, Myrick said forcing people to vote wouldn't solve the problem, but engaging students at a younger age to vote will
inspire them.
"I've found that once folks get involved in government, very rarely do they turn away," Myrick said. "It's like peeking behind the curtain in the Wizard of Oz."
While Rodriguez said younger people are becoming more politically aware and involved, more students need to incorporate themselves with politics.
"It needs to happen more and more — we can all make a difference," Rodriguez said.
Freshman Ayesha Patel, a member of IC Democrats, said it's imperative that students and younger generations involve themselves in politics.
"A lot of discussion going on in government right now is ultimately going to impact us the most as we get older," Patel said. "So it's important that we get our voices heard now in these matters."
Freshman Karen Rich said she's not registered to vote because she isn't interested in politics and doesn't want to vote blindly.
"I know everyone says every vote counts, but I think that you should only vote for something you actually know about," Rich said. "I don't know enough about politics, I don't want to just vote for a random person just for the sake of voting."
The panelists said there was a lack of personal connection in today's politics in comparison to past decades because candidates reach their voters through social media and broad televised campaigns. Most candidates, they said, don't travel door-to-door to ask for votes anymore, which prevents people from forming a personal connection with the candidate or the candidate's political party.
"The effort must come from us," Rodriguez said.
Arroyo said it was important for people to form a personal connection to an issue because it
inspires them to become engaged in the political conversation. He said voting still matters, even for those who vote for a Republican candidate in a primarily democratic region — and in the long run it could make a difference in the overall outcome of the election.
"The number of people who could have changed the Florida outcome for the Bush-Gore election in 2000 could fit in this room," Arroyo said. "If they changed their votes, it would have gone the other way."
Myrick said when students are not politically active and voting in elections, politicians cannot gauge what issues impact and interest students.
"Who matters and who doesn't matter, the visible and the invisible," Myrick said.