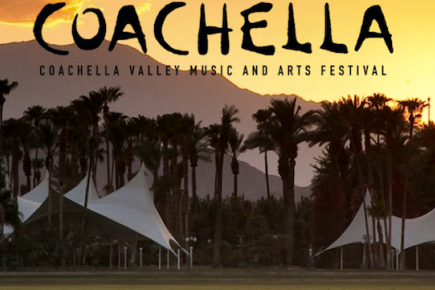 Are you like me and unable to attend the ever-amazing Coachella Music Festival this weekend? Well, welcome to the pity party, I'm Jared and I'll be your guide. Out of the kindness of their hearts, the festival organizers have once again enabled us poor souls to join in on the fun with a live stream. Here are some highlights you may wish to tune in for. Please note all times are in EST. The live stream can be accessed on the festival's YouTube page.
Friday, April 13th
7:40pm: Neon Indian – I can't really help it if you weren't able to attend their show at IC last year. It was a solid performance and that will definitely translate into an entertaining set with some serious lights when they take to the stage today.
8:05pm: Grouplove – I could justify cutting the Neon Indian viewing a little short to see these guys. I managed to catch a couple of their songs at Lollapalooza this summer and they're just plain fun to watch. "Colours" is brimming with energy and you'll definitely want to be friends with these guys after all is said and done.
10:50pm: Pulp – The Britpop titans are making their first return to the United States in over a decade. Lead singer Jarvis Cocker's spirit hasn't aged a bit and he knows how to get a crowd riled up. You're going to want to be watching when they really get it going with "Common People."
12:45am: The Black Keys – It will be worth it to stay up and watch these guys. They are undoubtedly the "it" band lately and people will surely go hard to their catchy blues-rock. Look for a smattering of cuts from their Grammy-winning album Brothers and their latest, El Camino.
2:15am: M83 – Because who needs sleep? M83 was the first live band I ever saw and they continue to deliver one of the best live shows around. Anthony Gonzalez is going to have the place going nuts with megahits like "Midnight City" and "Colours" (another song named "Colours" with that spelling? Yes.). Also, their bass player is like 20 years old. I had the pleasure of meeting him outside of their Boston show and he's awesome.
Saturday, April 14th
6:30pm: The Vaccines – These guys are one of my favorite new bands and were the first band I saw at Lollapalooza this summer. They bring us back to solid rock 'n' roll with a standard lineup of bass, guitar, drums and vocals. That's really all you need to get my attention. The Vaccines bring a good deal of energy to their set and we'll see if frontman Justin Young wears his red jacket that flaunts his first name.
7:20pm: Azealia Banks – 2012 is looking to be a big year for Miss Banks. Remove the "0" from 2012 and you have her dynamite single. I haven't heard much about her live show, but it will be interesting to see what she's able to pull off.
8:35pm: Kaiser Chiefs – I still don't understand how a band as crazy as Kaiser Chiefs can headline festivals and arenas in the UK, but play small club shows in the US. Whatever. Look for things to pop off during some of their more well known songs such as "Ruby" and "I Predict a Riot."
11:10pm: The Shins – Lead singer James Mercer leads his band into the desert on the hype of their latest album, Port of Morrow. You can read my short review of that gem right here.
11:55pm: Kasabian – Another band who headlines festivals in the UK, but not in the US. Kasabian is known for their energy packed live shows. Highlights of their set will most likely include songs like "L.S.F," "Fire" and "Re-Wired."
Sunday, April 15th
7:45pm: Fitz and The Tantrums – Did you see these guys open for Maroon 5 at Cornell? I immediately fell in love with them. They've got an old school swagger to them with some hefty baritone sax to back it up. I hope the audience is ready to dance.
8:30pm: Band of Skulls – This garage-rock trio is ready to melt your brain with their aggressive riffs and vocals. If you haven't heard of them, you're probably mistaken. They've been featured on just about every commercial and TV series know to man. Tune in and see if you recognize some of their cuts.
9:50pm: The Hives – If there was ever a band made for festivals, it is The Hives. The Swedish punks are always ready to throw down. They haven't been to the US in quite some time, so the crowd should be large and feisty. I'm curious to see what their outfit of choice is.
10:45pm: Justice – The French electro duo are back with some solid tracks. While I have never seen them live, I've only heard good things about their shows. It should be a treat to watch them help close out the festival.