Some members of the men's crew's four boats have transferred their experiences from individualistic sports as they adjust to new waters this season.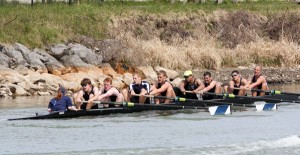 Freshman Jared Freedman and sophomore Paul Casey have come from other teams on campus to play a prominent role in the Bombers' nine first-place finishes this spring.
Freedman came to the college aspiring to be a catcher on the baseball team, but was cut in the second round of winter training. He had been playing baseball since he was 7 years old and continued with the sport until he graduated from Amherst Regional High School in Amherst, Mass., last year.
Freedman said he was disappointed after being cut, but decided to test out crew during the spring season because a friend suggested  he join the team shortly after he came to campus.
The coaching staff makes an effort to reach out to people who have not competed on crews before and does not make cuts throughout the season.
Freedman said this open environment fosters experiential learning within the team and has helped him adjust to the rigors of crew.
"All the guys have been so accepting and warm, and I've never felt like an outsider because I'm new to the sport," he said.
Casey was originally recruited to be on the men's swimming and diving team. However, he chose to switch to crew because he felt there was more focus on individual training while he was on the swimming team. He said both sports involved training similar muscle groups.
"It helps both in terms of psychologically being prepared for races and physically," he said. "Swimming is a sport that relies primarily on your legs, your core and your back, and rowing is the same exact way."
Freedman said crew requires more endurance and stamina than he was accustomed to, but the importance of individual responsibilities to achieve success is the same in both sports.
"Having a lot of athletic experience, you understand every guy plays a different role in the collective team identity, and that's a really important thing to establish," he said.
Crew has also helped Freedman understand how to motivate people from a mix of athletic backgrounds, he said.
"You learn how to be a part of a team and push your teammates to do well along with yourself," Freedman said.
Head Coach Dan Robinson said Freedman has been able to quickly move up to the squad's top boats  such as the third varsity 8, which compete in more races.
Freedman helped the novice varsity 8 to a second-place finish at the Blue and Gold's regatta against Skidmore College and St. Lawrence University on Saturday on Cayuga Inlet. The final time of 6.46.09 was 0.3 seconds short of first place, but was the boat's best finish of the season so far.
Robinson said Freedman's and Casey's involvement in baseball and swimming has helped them make a smooth transition to crew because it struck a balance between training with internal motivation and being open to criticism.
"The mental edge of being able to be competitive and be coachable — those are all characteristics that make somebody a strong performer, and they've had that
experience," Robinson said.