Ithaca residents are bracing for "carmageddon" as the city begins massive construction efforts this summer expected to block up roadways, leaving commuters searching for detours.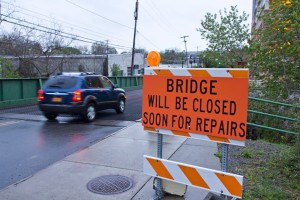 Road work, which began April 2 on Green Street, will expand to Seneca Street, North Geneva Street, East Clinton Street and other roads near Cornell University. At the same time, the Holiday Inn on South Cayuga Street will begin its new expansion between the summer months and November. The Clinton Street Bridge will be closed beginning Monday.
East Clinton and Prospect streets are the main route to Ithaca College from the west side of the city. Tom West, assistant city engineer, said Prospect Street sees 13,000 vehicles on a typical day. All these vehicles will have to find a detour.
The construction period includes Ithaca College's commencement and moving-out days for the college and Cornell University, creating potential for a backup in traffic during high-traffic times. It will also continue through August, when students are returning to the area, until November.
Seneca and Green streets will be restricted to certain lanes during construction.  East Clinton and Prospect streets, which will be fitted with a new bridge in a $5.3 million project, will be closed off entirely.
About $1 million worth of repairs will be made on the Seneca Street garage across from The Commons, and the new Breckinridge Apartments buildings will be replacing the Women's Community Building on the corner of Seneca and North Cayuga streets.
West said, because of less economic stress, many of these projects are now being set in place.
"Money is available," West said. "Some of the private projects are able to get under way this year, [and] our projects, the city's projects, have been in the planning process for a long time."
However, because the climate of the area creates a very brief window of opportunity for construction, West said the time frames of many projects may overlap.
"Asphalt plants don't stay open during the winter in this part of the country," West said. "It's hard to get construction workers available for outdoor work. Even with the peculiar weather we're having, there's no way to guarantee it."
Fernando de Aragon, executive director of the Ithaca-Tompkins County Transportation Council, said applying for federal funding for projects such as the Clinton Street Bridge contribute to scheduling.
"Federal funding is competitive," Aragon said. "We have a five-year program that gets updated every two years, and in the year 2007 the city went ahead and started the Prospect Street project. It's not uncommon for a project to take five to eight years, to come from planning and applying for funding to actual construction."
Former mayor Carolyn Peterson, who helped work on the projects while in office, said Seneca and Green streets were supposed to be paved last year.
"Those roads are owned by the state of New York and needed repair," Peterson said. "But instead, last year the state granted utility work to New York State Electric and Gas to put in utilities along curbs. It didn't make sense to repair roads, so the state put that off until this year."
Seneca Street and Green Street, which will both be repaved, encircle the Ithaca Commons. The two roads make up part of TCAT's Route 11, the only bus route that reaches the college.
Nancy Oltz, operations manager of the bus service, said the construction should not inhibit the service of any route. In the case of traffic on Seneca and Green streets, the buses will move around the construction.
"Our plan is to work with the construction company and work around them," Oltz said. "While they're grinding the road, at the point when they'll be right exactly in front of our bus stop, TCAT staff will be out there to help coordinate passengers and the bus drivers so we don't have to close off or have another bus stop."
These projects are not the only obstacles for Ithaca College students. Tim Ryan, manager of the college's Environmental Health and Safety, said a left turning lane will be added on Route 96B going into the Circles Apartments complex. The addition will lead to "partial closures" of 96B, although Ryan said the entrance will be opened for traffic during commencement and move-out periods.
Senior Will Chilcoat, who lives off campus, said he drives on Prospect Street multiple times a day.
"I don't remember a time where I haven't had problems traveling around Ithaca in the two years I've lived off campus," he said. "I definitely drive a bit more aggressively because of the construction. It slows me down, and it gets me frustrated when I'm trying to get somewhere."
West said he hopes drivers will understand the circumstances of the summer projects.
"People around here are pretty accommodating of these kind of inconveniences," he said.