The men's tennis team (5—7 overall, 4—1 Empire 8) bounced back from Saturday's loss to New York University by defeating the Elmira College Soaring Eagles (3—7 overall, 1—6 Empire 8) 9-0 in an Empire 8 Conference dual match this afternoon in Glazer Arena.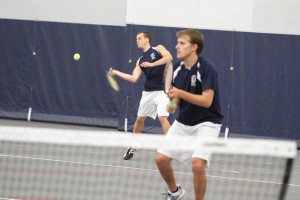 The Bombers had nine different players see action in the lineup and won all of their singles matches in straight sets. Before the match, the Blue and Gold honored seniors Jimmy Newton, Dan Levine and Nathanial Stritzinger. Stritzinger played his first varsity match and won 8-6 in third doubles with freshman Derryk Williams.
Newton defeated Elmira senior Eric Klinedinst 6-2 6-1 in first singles. Sophomore Griffin Reid defeated Eagles junior Gorav Simlote 6-0 6-0 in second singles.
Levine and Newton defeated Elmira's Klinedinst and junior Steffan Waters in first doubles 8-2. The South Hill squad returns to action at 4 p.m. Friday at Nazareth College and will end its regular season with a 1 p.m. matchup Saturday at Utica College.