More than 1,115 Ithaca College students participate in 38 different club sports on campus — which translates into almost 17 percent of the student population. With that many students involved in the program, you would think the college could provide adequate funding for them to be able to properly function. Unfortunately, this is not a perfect world. Economic times are hard, but the college sees it more fitting to equip classrooms on campus with flat-screen televisions. If the club ice hockey team can't afford to practice, at least they'll be able to watch CNN practically anywhere on campus.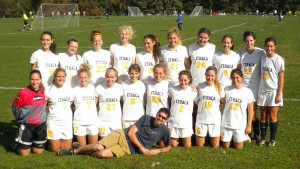 Why is it that year after year the club sports program struggles to receive enough funds? Going into the 2012-13 academic year, the initial budget request from club sports as a whole was nearly $17,000 more than the actual funds the college allocated to the department. These requests were for necessities such as travel costs, league fees and tournament costs. Even after cutting out "frivolous expenses," as our superiors like to call them, such as new uniforms for the women's club soccer team — whose members have been wearing the same jerseys for six years now — the comprehensive budget was still over by a few thousand dollars.
The college is one of the top competitors in most club sports, yet one of the lowest ranking schools in terms of budgets for the department. Compared to surrounding competitors like SUNY Cortland, Cornell University and Syracuse University, Ithaca College gets a substantially smaller amount for club sport funding. Because of this, most of the spending money, even for tournament play and equipment, comes from fundraising efforts by each individual team. In the 2010-11 academic year, club sports collectively spent $250,000 — most of which came from fundraising.
For some sports like rugby, ski racing or ice hockey, there is no varsity option at the college. However, athletes who compete in those sports suffer from the lack of funding just like the rest of the club teams. Especially for sports like ice hockey, in which equipment and ice time are particularly expensive, officers are concerned that the club may become an option only for students capable and willing to pay high team dues and other costs. Whether varsity or not, every athlete deserves an opportunity to play without having to break the bank.
Because funding is tight for the upcoming year with no change in the foreseeable future, Megan Wagner, program coordinator for recreational sports, is implementing a point system for teams to earn money through community service and good behavior. The plan sounds good in theory, but the fact of the matter is that it still does not mean more money. It simply means that some clubs who are willing to work harder will receive more of the money allocated for club teams. If one club gets more money, another one gets less.
What really needs to happen is somebody with more power needs to stand up for all athletes — varsity, junior varsity, club and intramural — and demand an adequate budget for all programs. That's it, adequate — enough to be able to practice, play and show our competition that we are a force to be reckoned with.
Nicole Hilton is a junior integrated marketing communications major and next year's president of the Women's Club Soccer team. Email her at [email protected].