Amidst the chaos and excitement of last week's RNC and this week's DNC, rumors have been flying about not just Ryan's possibly very, very fabricated  speech and Castro's adorable daughter, but also, Ann Romney and Michelle Obama's nominee's-spouse-fashion-showdown.
Actually, that's just speculation from the fashion crowd, but it's not completely unfounded. Ann Romney wore a bright red (think Nancy Reagan in all her glory days as a GOP-"Just say no"-patrician first lady) Oscar de la Renta dress, with a very traditional style and silhouette. The effect was very June Cleaver, All-American and complemented the vanilla good looks of potential first lady.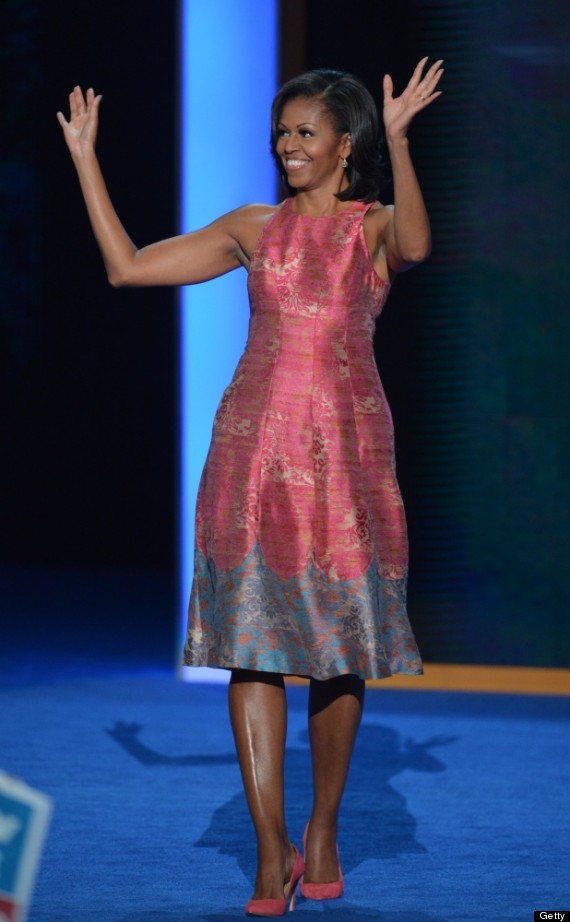 First Lady Michelle Obama chose a custom-made opalescent pink Tracy Reese dress with a lavender hem and a pair of J.Crew shoes. Obama has already received glowing reviews on her choice of a designer (Reese is a relatively young, African-American designer) and affordable footwear.
But the fuss stems from the fact that Obama has never worn de la Renta during her time as First Lady AND he's dressed every one since Betty Ford. De la Renta hasn't been especially quiet about it either, criticizing her choice of younger designers and claiming that she doesn't support American designers as she should.
Maybe a dress is just a dress. Or maybe this is Ann Romney's semi-dramatic way of trying to show Michelle Obama her sartorial alliances.