The School of Business welcomed Sam Villanti '86 Tuesday night for a presentation titled "Lessons Learned While Leading through Change."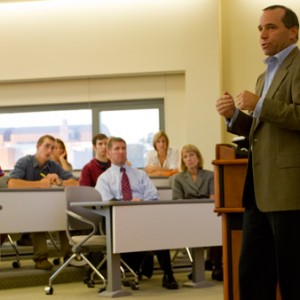 Villanti, president and CEO of UTC Retail, presented to a room full of students of all majors about his leadership during times of organizational change. UTC Retail is a major provider of cash register hardware, software and services.
Villanti was recruited to replace the CEO of UTC Retail in 1998, and in February of 2000 he organized a management-led buyout of the company. Under his management, he said, UTC evolved from manufacturing cash registers to providing hardware, software and service.
"A company that 10 years prior was bending iron and making things in a factory in Rochester, N.Y., is now essentially a software and service company," Villanti said. "What that has allowed us to do is not only survive, but grow."
Later in his presentation, Villanti discussed the lessons he learned throughout his career. The main point Villanti stressed was the importance of change in business. Villanti said businesses must change with technology, but they should only make changes that are practical.
"If we're doing the exact same thing five years from now, we won't be around," Villanti said. "The key is to find the practical application of technology."
Senior Hank Newman said it was helpful to see what a former graduate of the college has done.
"A lot of us don't know what we're going to do in a year," Newman said. "To see what an actual Ithaca College graduate did from square one, how he started off thinking he was just going to an internship and how that moved on to being president and CEO of a multinational country — it was really cool to see the steps that he took to become that."
Students from other departments of the college came to the presentation to hear about Villanti's accomplishments. Senior Nate Lawrence, a cinema production major, said he found the presentation reassuring.
"I always like coming to alumni speeches because it makes me more comfortable to see that a core group of people at Ithaca College have the same vision to succeed," Lawrence said. "It's always nice to see where they came from and how they got there."