Michael Omi, sociologist and associate professor at the University of California, Berkeley, kicked off the Center for the Study of Culture, Race and Ethnicity's "Suffocating Knowledge" discussion series Friday night in Emerson Suites with his presentation on the contradictions of racial classification.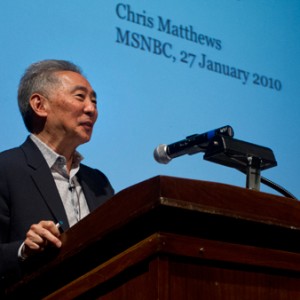 The series is an annual tradition for CSCRE. Naeem Inayatullah, professor and chair in the Department of Politics, said this year's theme, "Suffocating Knowledge: Race, Power, and Possibilities," examines the curricular and intellectual repression of race and ethnic studies nationwide.
In his presentation titled "Colorblind?: The Contradictions of Racial Classification," Omi addressed a crowded room about post-racial society manifested in colorblindness, which is the idea that ignoring race ends racial discrimination. Omi said the issue does not elicit a concrete solution, as there are nuances to consider.
"There are some new developments and patterns in racialization that may serve to destabilize some of this racial ideology, like colorblindness," Omi said. "In this environment, it's really important for scholars and lay people to really specify the important distinctions they want to make about colorblind and color-conscience practices."
With the election of the first African-American president in 2008, the U.S. was deemed a "post-racial" society, and discourses of colorblindness have emerged, Omi said.
Omi explored the contradictions of colorblindness through humor and research. He said empirical studies conducted on healthcare access, prison rates and education have only served to deepen color lines and demonstrate inequality.
In one example, he talked about a prescription drug known as BiDil, which helps treat heart disease. The drug, which was tested on different patients, had a better effect on African-American patients, causing other doctors to suggest that there are racial differences down to biology.
Gustavo Licon, assistant professor in the CSCRE, said the biological approach to classifying race is similar to the Eugenics movement of the 19th century, a social engineering practice that urged the procreation of "capable" people to build a more "improved" race. He said there is is a similar outlook emerging in this time period.
"Even though it's called a genome project or DNA, to me it sounds like the Eugenicist movement of the early 19th century, and how you have a revival of that at the turn of the 21st century, which is really interesting," Licon said. "What is it about the new century that brings about this rebound of scientific knowledge about race? There seems to be a tug of war of authority over who gets to decide what race is."
After Omi's discussion, Belisa Gonzalez, assistant professor of sociology, said Omi's presentation emphasized the importance of clearly articulating thoughts in discussions or "moments that matter," and analyzing the implications of those thoughts.
She said classification comes with consequences. Gonzalez referenced the Trayvon Martin case as an example.
"If George Zimmerman is now Latino, is it to get him out of the charge of being racist, or is it to shift the conversation away from the white racism and say people of color do it to each other?" Gonzalez said. "What is the racial implications of classification in that scenario?"
Gonzalez's remarks segued into a larger discussion with the audience.
Paula Ioanide, assistant professor in the CSCRE, posed a question to the audience, sparking a discussion about the disparities in the colorblindness views of white students and students of color, particularly in the classroom discussions at Ithaca College.
"For our white students, the most common reason is to not be charged guilty — a deep fear to not be associated with the legacy of white supremacy," Ioanide said. "But then increasingly, I've seen students of color come into the class and claim it as well, but for a very different reason. Often, it is not to be reduced to their race. It's like, 'I did work hard to get here … don't reduce me to a statistic.'"
Senior Reisy Veloz said she enjoyed Omi's presentation because of the intellectual foundation it provided, especially being a culture and communication major.
"My major tries to get in touch with people's culture and see how media forces communicate cultural messages," Veloz said. "Understanding something like colorblind theory can help me better communicate with people who come from different backgrounds and feel like they're not being represented by a colorblind ideology."