Ithaca College's Habitat for Humanity hosted a volunteer project on campus Saturday to build two sheds on the Campus Center Quad.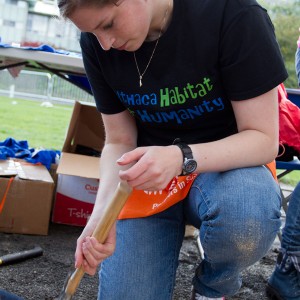 The building project was a collaboration with staff and contractors from an affiliate in Corning, N.Y. The sheds were created to serve as an addition to houses that will be built during the spring by Habitat for Humanity in Corning.
Samantha Yu, a co-chair for Habitat for Humanity, said the two sheds are going to fit nicely with the houses Habitat will build later this spring.
"I don't know about the specifics of who the homeowners are, but it's going to be a great addition for the houses to be built," Yu said.
The rainy weather Saturday morning did not make for good building conditions, but about 40 volunteers showed up, according to Heather Bissell, co-chair for Habitat for Humanity. Moe's Southwest Grill donated food to the event, and live music from WICB helped make the rainy morning more enjoyable.
"Without the music it would have been miserable in the rain," Bissell said.
Habitat has four main events during the year: Sleep out, Row for Humanity, the shed build and Habidash 5k, which is typically the biggest of Habitat's events, Bissell said.
"Our biggest event is usually the Annual Habidash 5k fundraiser, which is Oct 13th during alumni weekend," Bissell said. "Last year about 50 people participated, but we hope for more this year."
Yu said the event was arranged as an opportunity to raise awareness and get students involved in the program. Those in attendance were able to become involved without the complications of transportation and time conflict, because normally the organization's events are off campus. Attendees were also able to learn about Habitat's mission and how to become involved in the program.
"The open hours make it so that students can come and go as they please," Yu said. "Since Habitat depends on outside funding for all projects, raising awareness can also help us fundraise for other meaningful events in the future."
Junior Angelique Ward, who attended the Habitat event, said as member of a Christian organization on campus she was eager to give back to the Ithaca community.
"We had about 10 volunteers there today, and we had a fun time putting together the shed," Ward said. "Today was part of my effort to do more in our community, to be less 'me' focused and more focused on what others need."
The newly built sheds were transported to Corning later that afternoon.
Bill Wirz, construction manager for Habitat for Humanity in Corning, said the organization's partnership with the college's student organization will continue.
"We've been working with Ithaca College for probably 10 years," Wirz said. "IC was there for the first Blitz Build in 2007, and we are hopeful IC can be there again for the Spring Build."
The Spring Build is scheduled to take place during the spring semester.
Correction: An earlier version of this story misspelled Heather Bissell's last name as Bissel.