A group of young musicians gather and fill the neat rows of chairs at Presser Hall in the Whalen Center for Music. The concertmaster begins the instrumental warm-up, raising his hands as a hush falls over the room. Suddenly, the orchestra bursts into a rendition of the "Final Fantasy" prelude.
Junior Michael Samson, a music composition and theory major, has organized an ensemble of about 30 members that plays music from well-known video games. After learning about a similar orchestra at the University of Maryland last year, Samson decided to form an orchestra at Ithaca College, called The Ithaca College Gamer Symphony Orchestra.
"I was at a business meeting with [artistic director of the National Orchestral Institute] Jim Undercofler, and I went there saying, 'I don't know what to do with my career path,'" Samson said. "And he was like, 'You know there's a game orchestra at University of Maryland; you might want to get in contact with them.' And that sort of started, 'Well if they can do it, why can't we do it?'"
Last spring and part of the fall before, Samson began making preparations for the orchestra. He initially contacted UMD because he wanted to arrange for them, but after they turned down his request they offered to help him get started instead.
"That was really the kick in the butt that I needed to be like, 'OK, this is something that I can do and should do and will do,'" Samson said.
Samson said the goal of the orchestra is to bring a different type of music to a place where this music isn't represented, and to do it in a serious way.
"We're here to fill a gap that I felt was present in the School of Music and in the school in general," Samson said. "We're here to sort of be the ensemble that will allow you to perform this repertoire of music in a serious way. We're not just a bunch of fanboys coming to play off nostalgia, we're here to present serious music."
Instruments in the orchestra include clarinets, violins and trombones, among several others, with about two or three people playing each instrument. The range of video games for the first concert, tentatively scheduled for Nov. 11 in Emerson Suites, is mid '80s to modern-day video game music. "Final Fantasy," "Dead Space" and "Kingdom Hearts" are just a few games that will be represented in the orchestra's repertoire.
"[It's] a huge range and all the music is good, and it's presented in an artful way and it has a place in game history," Samson said.
Samson said he's opened the orchestra up to non-majors, though the orchestra is mostly music majors as of now. He said he wanted the group to start off strong in order to legitimize itself.
"There's plenty of non-majors involved, which I think is a great experience for the non-majors to become part of this," Samson said. "I like that the ensemble is mostly majors because it gives the non-majors that are in it an opportunity to grow as musicians and to learn from them."
Samson began recruiting people in the music school by putting up flyers as well as making announcements in classrooms. He emailed professors who specialize in certain instruments to help recruit people for the orchestra where they were lacking.
"The group is actually getting slightly larger every week," Samson said. "By our concert, [there's] probably going to be somewhere around 40 members involved. Last rehearsal we probably had 30-something people there and it was a good size, and it was a good balance of sound. That's how I imagine the orchestra being."
Samson said he thought the group is important because music contributes so much to the video gaming experience.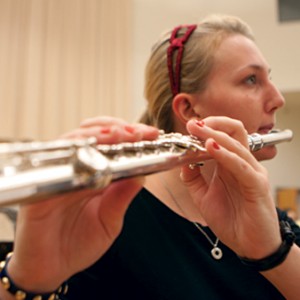 "Video game music, like Ithaca College, represents an amalgam of many different disciplines," Samson said. "In a video game, you have the music, you have the art, you have story and script writing. I find that to be incredibly powerful."
Junior concertmaster Nils Schwerzmann said he enjoys playing in the orchestra because it evokes nostalgia for him, having played these video games as a child.
"It's always been my passion to play this music," Schwerzmann said. "I've been playing these games since God knows how long and just to finally be able to express all the feelings of my childhood through that [is nostalgic]."
Though Samson has orchestrated the majority of the project, he is not working alone. He has two other conductors helping him out. Junior Seth Waters, a composition and music education major, and grad student Tiffany Lu are conducting at least two pieces each for the seven-piece concert.
"It was more nerve-wracking getting up to conduct than it was actually conducting because everyone just committed so much," Waters said. "I honestly appreciated the sense of responsibility they all shared toward the music."
Waters said he respects Samson and has enjoyed conducting for the orchestra because it's fun for the musicians to play this sort of music.
"[Samson] … helps put me on a track toward accomplishing what I need, should and want to accomplish," Waters said. "It's the perfect balance between structure and chaos. I'm pure chaos. It's a lot of fun for me and I imagine a lot of fun for them playing music that they're familiar with."
Throughout this process, however, the group has run into some hardships. Their search for a group adviser was a bumpy road, Samson said. He said the music professors he wanted to recruit wanted to help, but they didn't want to attach their name to the organization because they were afraid of giving the string players tendonitis by adding more work to their schedule. Eventually, he discovered Sharon Stansfield, associate professor and chair of computer science.
Stansfield said she thought the orchestra sounded interesting when Samson — who takes her Intro to 2D Game Design class — approached her, though she said she doesn't physically contribute much to the group besides her name.
"I know exactly how much importance music has to game development," Stansfield said. "So I thought it was pretty cool that there were music majors interested in actually looking at and playing the music."
Stansfield also said the orchestra will help the college feel more connected and that it will bring people together from different disciplines.
"As a whole it shows the outside world we're kind of a cohesive environment and that we're not just separate and individual schools, but we all work together," Stansfield said. "And it probably also helps us get visibility for game development and emerging media."
Samson said he hopes to keep the orchestra as an ongoing club instead of simply focusing on a preparation for one concert.
"I'm trying to set it up so that when I leave, other people will be here to pick up what I've left them, so it's not just Michael Samson's orchestra — because it's not," Samson said. "It's the Ithaca College Gamer Symphony Orchestra — it's about us."
The Ithaca College Gamer Symphony Orchestra meets from 7 p.m. to 9 p.m. every Sunday in Presser Hall in Whalen. The orchestra is open to anyone who is interested.