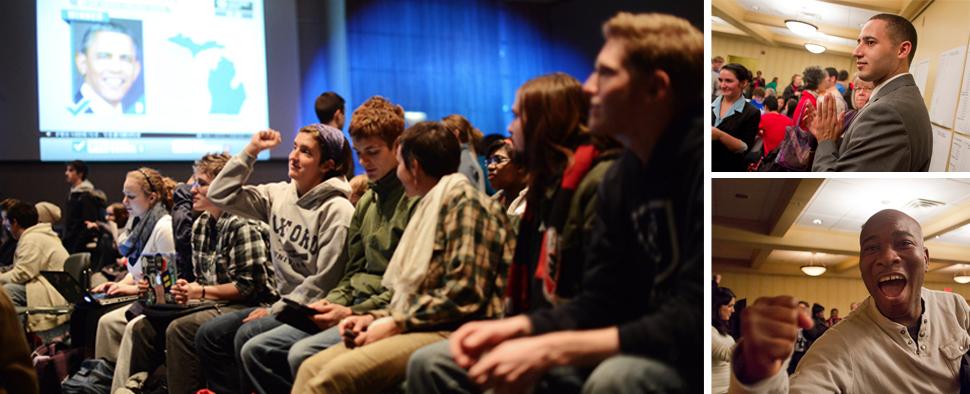 Students were screaming, cheering and hugging in Emerson Suites as CNN projected that President Barack Obama had been re-elected in the 2012 election. The Associated Press confirmed the re-election at about 11:40 p.m. Tuesday.
About 125 students were gathered in Emerson Suites to watch the 2012 presidential election results as they processed. Polls in Ithaca officially closed at 9 p.m.
The Ithaca College Democrats and the Residence Hall Association co-hosted the non-partisan celebration of the election, showing it on three large screens.
After CNN announced Obama's re-election, many students in Emerson Suites began chanting, taking photos and jumping up and down.
"I'm just so relieved, so happy that someone who has a clear head is able to lead this country for another four years," junior Rob Hohn, an officer for IC Democrats, said.
According to the AP, Obama had 290 electoral votes as of 11:55 p.m., and Gov. Mitt Romney had 200 electoral votes.
Senior Rob Flaherty, president of Student Government Association and IC Democrats, said IC Democrats wanted to host an event for the election after they saw Ithaca College did not have one planned. The event featured free pizza and music.
"It's a great way for the community to come and be engaged in current events," Flaherty said.
The following states had been called in favor of Obama as of 11:55 p.m.: California, Colorado, Connecticut, Delaware, Hawaii, Illinois, Iowa, Massachusetts, Maine, Michigan, Minnesota, Nevada, New Hampshire, New Jersey, New Mexico, New York, Ohio, Oregon, Pennsylvania, Rhode Island, Utah, Vermont, Washington, Washington, D.C., and Wisconsin.
The following states had been called in favor of Romney, according to the AP: Alabama, Arizona, Arkansas, Georgia, Idaho, Indiana, Kansas, Kentucky, Mississippi, Missouri, North Carolina, North Dakota, Nebraska, Oklahoma, South Carolina, South Dakota, Texas, West Virginia and Wyoming.
Junior Andreas Jonathon, who attended the event in Emerson Suites, said he was happy with the results because it was the first election he could vote in.
"My parents got citizenship over the summer, so this was something we were really looking forward to," he said. "So it's really awesome that we got to vote, we got to take a part of this really great moment."
Flaherty said he was pleased with the turnout for the event.
"We're really excited that the president is going to get 4 more years," he said. "We're really glad that people came out today."
Downtown, about 50 local democrats gathered at the Holiday Inn to wait for the election results. Irene Stein, chair of the Tompkins County Democrats, said she was optimistic that Barack Obama will be re-elected president. She also said she was proud of the progress he has made in the last four years and that he can do much more in his next term.
"I think he has been an amazing president," she said. "He's helped stabilize and revive the American auto industry, he instituted change and healthcare. He's steady; he's stable; he's a leader."
Meanwhile, some students followed the election closer to the capitol. Reporting for WICB from Washington, D.C., sophomore Noreyana Fernando said there were many college students gathered outside of the White House tonight, and a number of them were saying it was a once in a lifetime opportunity.
"There's a bit of screaming going on here — a lot of excitement," she said. "It's really encouraging to see all of this youth involvement in the 2012 election."
Check back soon for more updates to this story. Sabrina Knight and Candace King contributed reporting to this story.