When professor Lawrence Doebler was a music student in college, he witnessed the power of music firsthand. At a climatic moment in the music, a blind choir member momentarily regained her sight during the concert.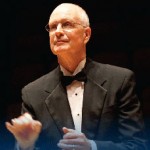 During the piece, Bowman could see the choir conductor Robert Fountain [Doebler's mentor] and all of the choir members. Bowman lost her sight soon after the piece, but Doebler, then a student at the Conservatory of Music at Oberlin College, said it was one of those moments in his career that illustrated the power of music.
Now that he is retiring, Doebler said he thinks back to all of the career defining moments he's had.
Doebler said he was profoundly affected by his mother's passion for music growing up. As a child, Doebler practiced music for nearly five hours a day and has learned to play many instruments such as the violin, tuba and piano. As a result of his childhood and passion for music, Doebler has become one of the leading collegiate choral conductors in the nation and has impacted the lives of many students at Ithaca College.
"Music in my family was important," he said. "I started piano when I was 2 and a half, and I started taking lessons from my piano teacher that I studied with through high school when I was 5. [I] had to take voice lessons. I went to Oberlin as a voice major first in music education and then got into conducting, where I found my niche."
He began his teaching career in 1969 at Smith College, taught and conducted at the University of Wisconsin-Madison from 1971 to 1978 and then came to the college, where he is currently a professor of performance studies in the School of Music and the director of choral activities.
Throughout his career, Doebler has witnessed the effect of music on performers and the audience. It was due to those experiences that when Doebler came to the college, he created a family in the Ithaca College Choir.
The Ithaca College Choir connects with the audience on a more personal level and forges a more personal and emotional connection, Doebler said.
"It becomes a very interesting dynamic then between the choir and the audience as opposed to just between a choir and a conductor," Doebler said. "It's become an emotional conduit from composer, poet through the choir to the audience, who all leave being moved by what they saw as opposed to not being invited in a traditional concert where it all happens on a stage."
Graduate student Steven Humes '12, a music performance education and voice major, has been taught by Doebler for the past five years. Humes said he is going to graduate as a better musician and has become a better person because of Doebler.
"He cares so deeply about who you are and what makes you individual, and he embraces unique qualities, and he wants your voice to be heard as much as his own," Humes said.
Doebler said many times on tour, the audiences are genuinely moved by what the students perform. The choir toured in Ireland in 2001 after Sept. 11. The audiences were very concerned for the students when they learned they were from New York.
"There was just a special blessing that they seemed to give all of our students when they sang, and they were very concerned about what was going on here, and each one of those concerts was tremendously moving on so many levels," Doebler said.
Doebler has found that music has the power to make people forget their troubles and simply be in the music.
"We've had moments like that all through these tours, people become so elevated, so invested in the music that they're not really thinking about the music at all," Doebler said. "They're just being, and its an extraordinary event when that happens to them, to me, to the audience."
Doebler said he enjoys teaching because of the interactions with the students and getting them excited about teaching and music.
On April 19, he conducted the Ithaca College Choir and Symphony Orchestra at Lincoln Center's Alice Tully Hall, performing Poulenc's Gloria with Jessica Julin, an alumna soprano soloist.
Janet Galvan, professor of music education, said Doebler will leave a legacy at Ithaca College.
"Some of their strongest memories of Ithaca College were the years that they sang in choir and the bond that they formed with one another during those years, and I think for many students, that feels so good in a school, to form a group that has become so close and shared so much, and they've worked so hard together that they almost become like family," Galvan said. "I think that's the reason that so many people are coming back, they want to sing with that family one more time."
Doebler said his greatest achievement in his career is sharing what he knows about choral music and exciting students who are going to pass on his knowledge to the next generation of students.
Graduate student Erin Peters said Doebler has a unique way of impacting each student.
"Mr. Doebler treats every student with the utmost respect and dignity and strives to make sure all are heard and honored," Peters said.
There is a retirement reception for Doebler that is to be held from 3:30 p.m. to 5 p.m. Friday in the TC Lounge, the 14th floor of East Tower.
In retirement, Doebler and his wife plan to move to North Carolina to be near their children. Doebler said he has loved his career, but he realizes it is the right time to make a change in his life.
"This is a profession that I could go on doing as long as I can live," Doebler said. "I never tire of it, and it's just the most satisfying career that I think one could have. I'm doing what I love to do, and that's what I tell my students, to find what that is."