Following a series of racially charged events that occurred near or on Cornell University's campus, Black Students United at Cornell University interrupted a University Assembly's meeting Sept. 19 to demand changes to the college's campus code of conduct regarding speech.
Protesters arrived at the meeting at 4:30 p.m. in Clark Hall and quickly filled up every available seat, forcing others to gather in the hall and stairwell. Many of those present wore all black, as suggested by Black Students United on its Facebook page, in a display of solidarity.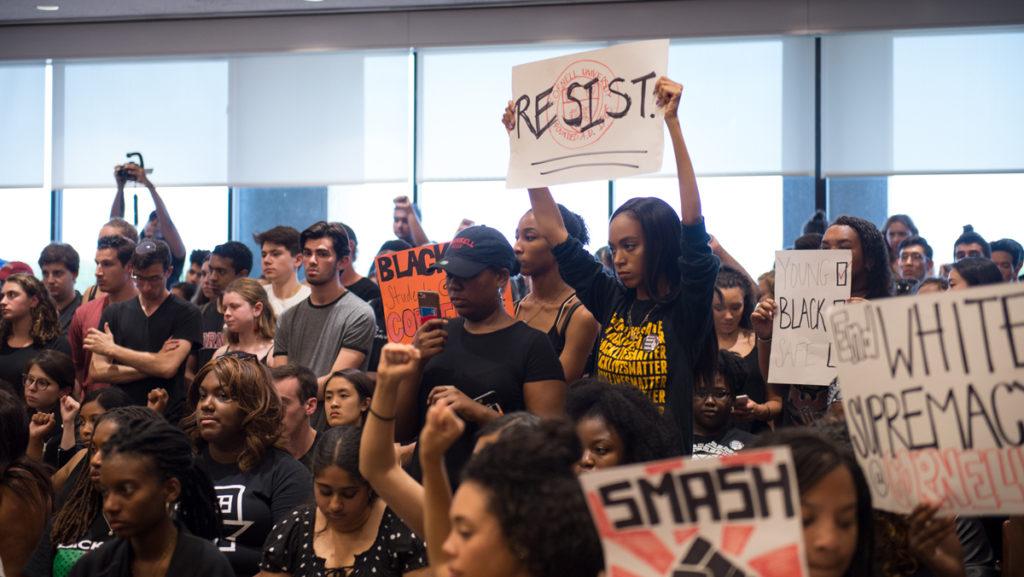 The protest was organized after a black student was allegedly assaulted by a group of males on Sept. 15, who also yelled racial slurs at him, according to the Ithaca Police Department.
Police arrested a Cornell student, sophomore John Greenwood, and charged him with third-degree assault. The IPD is still investigating the incident and if the assault "was based on racial bias."
Story continues below advertisement
This incident follows a previous one where a member of Zeta Psi allegedly chanted "build a wall around the LLC" at the Latino Living Center at the college Sept. 6, according to a statement released by the Cornell University Student Assembly.
Cornell junior Traciann Celestin, co-chair of Black Students United, addressed the assembly at the beginning of the demonstration.
"Silence is power," Celestin said. "Hate speech is not free speech. We will not waste any more emotional labor than we have already lost explaining basic human rights to your assembly."
When the assembly asked junior Delmar Fears to identify a policy measure they would like to discuss, Fears repeated the above quote.
The University Assembly is a body that makes recommendations to governing bodies on campus concerning issues that involve the interest and welfare of the university, according to the university's website.
In a Facebook post published Sept. 18, BSU said it would be protesting the Assembly because it created the campus judicial code that BSU said protects those on campus who promote hate speech. Cornell currently has no provision in its Student Code of Conduct that explicitly addresses hate speech, but it does have a provision on harassment. It states that action "that is by objective measure threatening, abusive, or severely annoying," is beyond free speech.
Martin Hatch, committee member of the University Assembly and professor emeritus, moved to ask the Codes and Judicial Committee (CJC) to institute a provision that would define if hate speech undermines campus code of conduct.
"The CJC will have to work on this so that it doesn't interfere with the freedom of expression in the university environment," Hatch said. "That's an important part of defining the role of a university."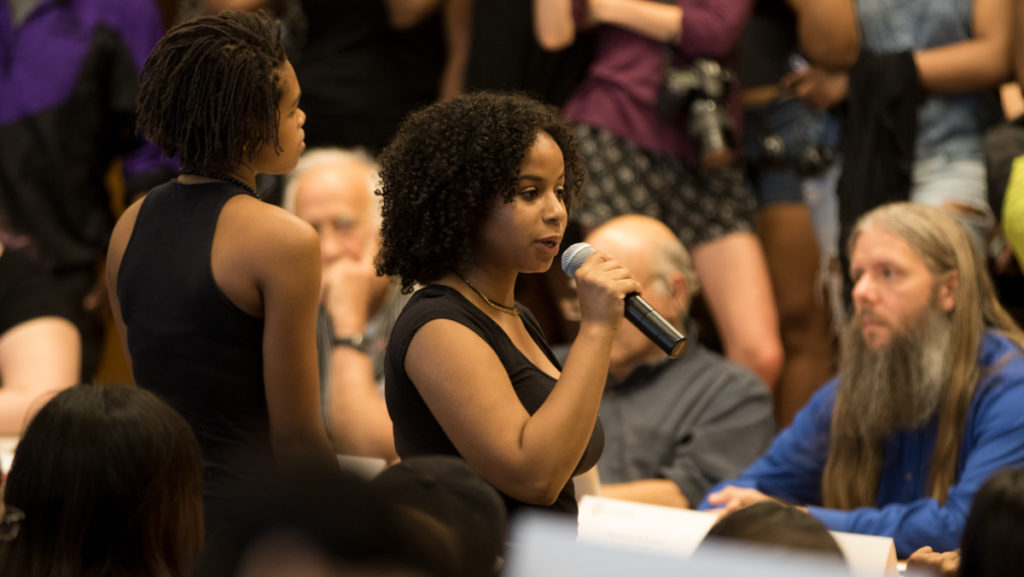 After this motion was created, BSU students and allies used 25 minutes to sit silently with their fists up. After the demonstration, the Assembly passed the motion unanimously.
Mason Leist, a student in attendance at the protest, also disputed the stance that hate speech equates free speech. Leist said it is the responsibility of the university to re-examine its policies regarding hate speech.
"As a woman of color here, I think that it's incredibly important that the university takes a stand in supporting all of their students," Leist said. "I don't think that any speech that makes people feel unsafe, and speech that makes people feel even more marginalized than they may already be, and is putting a restraint on their voice and their freedom, should be protected."
Cornell freshman Sai Mallipedhi also expressed dissatisfaction with the lengths taken by Cornell thus far regarding racial tensions on the campus, especially in light of the most recent incident.
"I believe there needs to be more action done," Mallipedhi said. "The inaction is disappointing, especially when you're at a college like this."
President Martha E. Pollack released a statement Sept. 17 acknowledging that she and her leadership team had been working through the weekend to "develop and implement steps to be a more equitable, inclusive and welcoming university." In her statement, she laid out steps toward achieving a community that is open to all. One of the steps stated in her plan is to construct a Presidential Task Force to examine and address persistent problems of bigotry and intolerance at Cornell.