Nine teams of Ithaca College students pitched their business ideas to a panel of judges at the Startup Idea Demo Day, a competition for funds to support business ideas, hosted by Rev: Ithaca Startup Works on Nov. 14.
LAGÖM, a startup that would design and sell affordable, fashionable clothes for young adults with disabilities, was presented by juniors Hana Motoki and Dikshyant Shrestha and sophomore Denise Garcia-Torres. It received $800, the largest portion given of the total pool of $5,000. It also received half of the $200 sustainability award, an award the panel of judges gives to a business pitch they feel is environmentally conscious.
This is the second annual Startup Idea Demo Day hosted at the Rev. Rev is business incubator and workplace in downtown Ithaca that offers guidance and resources for local entrepreneurs and students interested in entrepreneurship, Jeremiah Cotman, Rev coordinator, said. It was created through a partnership of the presidents of Ithaca College, Cornell University and Tompkins-Cortland Community College to offer support to new businesses and student startups. Cotman said he always enjoys the college's demo days and each team's commitment to entrepreneurship.
Each group was granted four minutes to give their pitch to three panelists, Michael Axelrod '91, Donald Judson '88 and Jennifer Tegan, all local entrepreneurs with ties to Rev. The panelists then had four minutes to ask the team any questions about the proposed startup. After each team had presented, the panelists determined how much of the $5,000 pool allotted to the competition each team would receive.
LAGÖM plans to use these funds to create prototypes of their product. They also plan to pursue a soft launch at CTC Academy in New Jersey, a nonprofit organization for children with developmental disorders.
Motoki said she first came up with the idea for LAGÖM when working with children with disabilities at CTC Academy, and recruited Shrestha and Garcia-Torres as partners in the project. When working with children and young adults with disabilities, Motoki said she noticed a lack of available clothing options for this demographic.
"A lot of times when I talk to parents, they don't want their child to have to be confined to wearing leggings or sweatshirts all the time," Motoki said. "Sometimes they feel liberated knowing their child looks good… It lifts not only the child's spirits up."
Motoki, along with many other participants of the Startup Idea Demo Day, first began to flesh out the idea for a pitch in an entrepreneurial class taught by Brad Treat, instructor of management. Treat said the class is applicable to majors outside of the business school, and that many incoming students in all of the college's schools have expressed interest in entrepreneurship.
"It's not just at the top of the list in the business school, students in all parts of the college are thinking about entrepreneurship… and you saw that tonight," Treat said.
At least one student from every school at the college participated in the event.
PositivelyMystic, presented by junior Nicole Marino, won the $200 audience choice award and $500 from the total pool. Marino produces and sells Ouija boards and will be using the funds to cover expenses like the salaries of employees, materials and product branding while she studies abroad.
Marino's brand attempts to fill the void in the market of affordable Ouija boards since most are either cheaply made or handcrafted and too expensive.
"Our boards compete in quality and are produced at a fraction of the cost," Marino said. "The boards only cost $3 to make but are sold online at $45 each, a profit margin for which the judging panel expressed satisfaction."
Knottie Brand Fishing Co., presented by seniors Nikolas Hansen, Nicholas Vogel and Andrew Schreck, was awarded $750. They plan to provide a product that will ease the burden of tying knots for different fishing maneuvers for an older demographic.
360 Properties LLC, presented by Johnny Bello '16 and senior Justin Bober, was awarded $700.
Bober and Bello began the company before Bello graduated. It provides property owners with a virtual three-dimensional tour of a property that can be showcased online or through social media. The team said they will be using the $700 to purchase a drone that will assist them in creating the virtual tours.
Just Add Water, presented by seniors Dan Porter and Devin Cannon and junior Adelaide Giesey, won the other half of the sustainability award in addition to $250 of the total pool. Just Add Water is a prospective subscription-based plant delivery company. The company would provide customers with pre-planted flowers, and would text reminders for when these plants should be watered.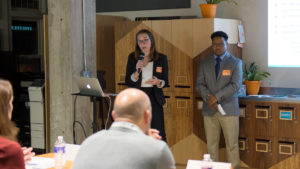 The other groups that presented were MEI, METRO, Companion Connection and Teacher's Conference.
MEI, presented by seniors Angelique Weston and Cheng Mei Wang, creates branding opportunities and designs merchandise for YouTube celebrities and was awarded $600.
METRO, a prospective app that juniors Michael Gardiner, Isaiah Nardone and Elijah Potts and sophomore Julia Damesek hope will become a uniform platform for public transport transactions was awarded $500.
Teacher's Conference was presented by seniors Matt Fiacco, Zach Martin and Nicholas Skerpon and sophomore Hudson Payer. Teacher's Conference will be an online platform for teachers to share lesson plans and discuss teaching methods. It was awarded $300.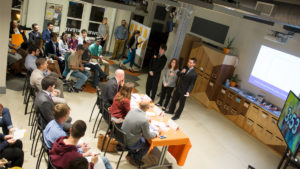 Companion Connection, presented by juniors Andrew Diamond and Benjamin Laufer and senior Jill Weisman, was awarded $200. It aims to connect elderly people seeking companionship with individuals with similar interests.
Sean Reid, dean of the business school, said the distribution of these funds was based on the needs identified by each group's pitch, a new policy put in place last year. In the past, each place — first, second or third — would be awarded with a predetermined amount of funds.
"It used to be that we gave out checks… there was no guarantee that those funds were actually being spent on the business," Reid said.
A request for a specific amount of funds, as well as a detailed description of how funds would be utilized, was required from each team. The new responsibility of each team creates a greater sense of accountability, Reid said.
The $5,000 pool came from restricted funds from donor gifts specifically designated to go toward the School of Business, Reid said.