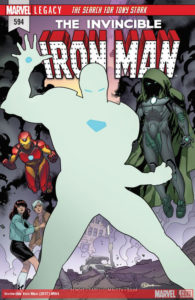 "Invincible Iron Man: 594"
Written by Brian Michael Bendis
Drawn by Stefano Caselli and Alex Maleev
Tony Stark's comatose body has been kidnapped and there's only person who can find it: Riri Williams. This is a classic Brian Michael Bendis issue. Like so many other Bendis books, this issue's writing is entertaining, yet shallow, its art is gorgeous and the plot moves at a snail's pace.
The glacial plot progression is caused by Bendis splitting the issue between two separate stories: one following Riri Williams and the other following Doctor Doom. Neither story reveals new information. Readers already knew that Doctor Doom had a gang of villains trying to kill him and that Stark Industries wanted to fire Tony's mother, Mary Jane and Riri Williams. The other problem with the parallel stories approach is that Alex Maleev and Stefano Caselli's differing art styles lead to jarring scene transitions. However, that doesn't change the fact that these are two of the best artists currently working for Marvel. Bendis has done a great job developing Riri Williams and Doom. Hopefully once Tony Stark is reintroduced and Bendis leaves to write for DC Comics these two Iron Men won't be swept under the rug.
3/5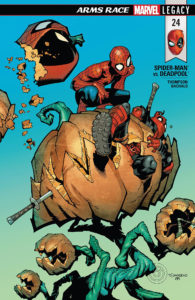 "Spider-Man / Deadpool: 24"
Written by Robert Thompson
Drawn by Chris Bachalo
Spider-Man and Deadpool's main series have both been reinvigorated recently with exciting status quo changes. Peter Parker is broke once again and Deadpool is a wanted criminal. These changes should significantly affect the two characters' dynamic significantly, but unfortunately, this issue fails to pay that off in a compelling way.
Compounding this script problem is the absence of effective humor. Spider-Man just tells Deadpool that he's going to jail over and over while Deadpool tells barely passable jokes. The lack of laugh-out-loud moments would've been more tolerable if the book was a quick read. Sadly, the rapid scene transitions, forces readers to pay close attention to every minute detail to even comprehend what's happening.
The only saving grace is Chris Bachalo's art. His work is expressive and cartoonish but maintains a level of darkness as well. It's the perfect blend for a Spider-Man and Deadpool team-up.
2.5/5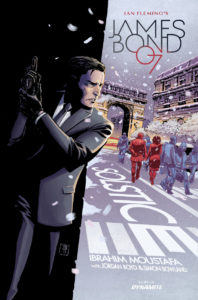 "James Bond: Solstice"
Written and drawn by Ibrahim Moustafa
First-time "James Bond" writer and artist Ibrahim Moustafa has hit the ground running with a standalone issue centering on James Bond's attempt to assassinate Anatoly Zima, a former Russian agent on the run. The rub: Zima is dating someone very close to M.
Moustafa's confidence in his visual storytelling is the strongest aspect of the book. Often he'll keep his dialogue at a minimum and let his art do the talking. This helps keep the book feel fast-paced and exciting. Ultimately there isn't too much that differentiates this story from any other "James Bond" book or movie. A larger emphasis on the Christmas setting could have helped make this issue feel unique. However, there are enough great moments — especially the final fight scene — that make this book worth a read.
3.5/5
"Old Man Logan: 31"
Written by Ed Brisson
Drawn by Mike Deodato Jr.
Logan's confrontation with the Hulk gang has ended and he has arrived back in Tokyo. Unfortunately for Logan, he is swiftly embroiled in a conflict between the Hand and the Yakuza who have managed to replicate Logan's healing factor.
The lack of subtlety is almost astonishing. Members of the Yakuza operate on on a five-year-old's understanding of how a crime family operates. They simply monologue maniacally and kill indiscriminately, regardless of whether or not it's in their interest to do so.
However, this book does have a saving grace. Mike Deodato Jr.'s dark and semi-realistic artstyle is perfectly suited to the gritty and colorful world of Japan's underbelly. Frank Martin's colors also do a fantastic job of immersing the readers in this dark, neon-soaked city. Luckily, Ed Brisson embraces this strength and gives Deodato plenty of great action sequences to draw. This could be a great arc if Brisson adds nuance in later issues.
3.5/5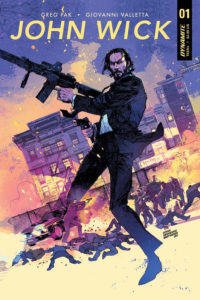 "John Wick: 1"
Written by Greg Pak
Drawn by Giovanni Valletta
The "John Wick" movies are uniquely suited for comic adaptation. The operatic presentation, action-heavy story, and strange world building of these movies all feel straight out of a comic book. That's what makes this issue all the more baffling. Instead of focusing on any of those traits, this book sends John Wick on another bland revenge mission against a man who wronged him in the past.
For one, a lot of the storytelling here is unclear. In one moment, the story jumps from a half-hearted flashback from John's childhood, to a flashback from a few hours in the past, then finally back to the present day in two pages. By the time readers are back in the present they aren't sure if they're in another flashback. The unclear writing is exacerbated by the undeveloped art. Giovanni Valentina does a great job adapting Keanu Reeves' likeness, but everything else takes a backseat. Character backgrounds are underdeveloped and the whole book lacks detail and style. Even worse, the one brief fight scene readers are treated to is boring.
Finally, it isn't clear what this series is trying to accomplish. It's supposed to be a prequel, but John Wick is being written and drawn the same way he appears in the moves, which presumably took place many years after this point. There's no room for character growth so this series can't function an effective prequel. Ultimately, there isn't a single reason for anyone to pick up this book.
1.5/5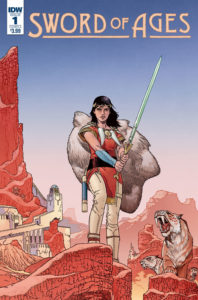 "Sword of Ages: 1"
Written and drawn by Gabriel Rodriguez
Gabriel Rodriguez, best known for his work as the artist on "Locke and Key" is starting his first series as both writer and artist. Luckily for us the results are already very promising.
"Sword of Ages" follows Avalon, a young woman raised by humans and a pack of sabretooth tigers. She and her mentor Merlyn go biking to the Sacred Lake to meet its guardian. The story itself is a loose adaption of the story of King Arthur in a sci-fi fantasy world reminiscent of "Dune." Despite its clear influences, this truly feel like a fully realized, lived in world. The characters are all immediately appealing as well.
Rodriguez's detailed, precise linework conveys the emotion of the characters and the grandiosity of the world masterfully. While this series hasn't actually set up what Avalon and her band of fellow warriors are actually trying to accomplish in this arc yet, this is still one of the best first issues in recent memory.
4.5/5
"Spy Seal: 4"
Written and drawn by Rich Tommaso
Rich Tommaso's incredibly charming series has finished its first arc. Unfortunately, this ending is a little underwhelming. "Spy Seal" is the story of MI-6's newest agent, a seal in a world of intelligent animals who was hired because he's a fancy lad who does well under pressure. Together with his partner Agent Kes he must stop some Russian Communist terrorists.
It's never fully clear to the reader what the threat is that Spy Seal is trying to prevent, or even who the real villain is, which deflates the stakes. The Russians want to inflict harm and steal a small phoenix artwork, but it's never revealed why.
However, the characterization of Spy Seal and his friends is a delight. This book is chock-full of Britishisms and fancy anthropomorphic animals, which makes any story problems palatable. The art, which is heavily inspired by "Tintin," is gorgeous as well. Tommaso's linework is shockingly clean and precise and his colors are a joy to look at. Hopefully Tommaso can build on the solid foundations of these characters and this world to write a story that's a bit more clear and exciting.
3/5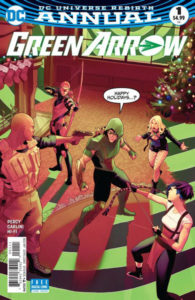 "Green Arrow Annual #1"
Written by Benjamin Percy
Drawn by Eleanor Carlini
This year's "Green Arrow Annual" borrows from "A Christmas Carol" in an effort to deliver a Christmas-themed adventure. Oliver Queen and his friends are trapped in a shared hallucination crafted by Count Vertigo. In Oliver's vision, he talks to a younger version of his mother, Moira. Their conversation is interrupted when John Diggle kills Moira. Oliver is then forced to confront his conflict with dream-Diggle, who has been largely absent in recent issues of the series.
Percy tries to focus on each character's hallucination, but there is a clear discrepancy in the page space devoted to each hero. While it makes sense that the issue focuses on Oliver and Roy Harper, other characters, like Emiko and Black Canary, get shortchanged in the process. As a result, this issue fails to accomplish its goals because it gives some members of Team Arrow an insufficient amount of attention.
3/5
"Aquaman Annual #1"
Written by Phillip Kennedy Johnson
Drawn by Max Fiumara
If you could live your fantasy life in a neverending dream, would you choose to stay asleep, or would you wake up and live in the flawed real world? That is the question that "Aquaman Annual #1" explores. The bulk of the issue centers around aged versions of Aquaman and Mera, who have achieved all their dreams. They have a son, Tom, and have built a magnificent new Atlantean city, Crownspire. Subsequently, Atlantis has made peace with the surface world. The royal couple is visited by older versions of Superman, Wonder Woman and Hal Jordan, who arrive shortly before an Atlantean prison is attacked by a group of rebels. From that point on, the fantasy slowly starts to crumble.
This issue packs quite an emotional punch. Arthur and Mera experience both the most powerful happiness in their life and heartbreak when the fantasy is broken. They have a son, Tom, who they love wholeheartedly. When the dream ends, they lose Tom, too. Arthur and Mera must grapple with the loss of a child who technically never existed. Arthur must also face the loss of his idealized version of Atlantis, one that has achieved peace and prosperity. Johnson pens a powerful story that feels like a cinematic adventure rather than a holiday-centered one-off.
4/5