Fourteen-year-old Aviva Nachman stood in a small crowd, as she faced the stage in June 2012 . Her blue eyes were lined with dark coal eyeliner. Her hair was greasy, flattened. Nachman wore black combat boots despite the warm weather. The performers tuned their instruments on the stage. Behind them, a light breeze ran across the pond at the Edgemont Park Boat House in Montclair, New Jersey.
As the band members began to play a set, Nachman looked at Nandi Plunkett, the keyboardist and vocalist of the punk band Pinegrove, and felt instantly attached to the music community.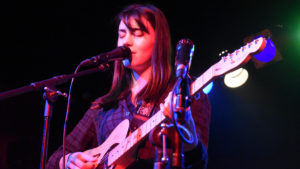 "I remember Nandi — she had this really serene, beautiful look on her face as she was playing, and I was like, 'This is a community I refuse to leave,'" Nachman said.
Nachman, now a freshman at Ithaca College, created an independent magazine and later built a music booking company through social media before coming to the college. There is one issue of the magazine currently available, and her booking company has booked about 15 shows in the past year.
Two years after she saw Pinegrove perform, she transferred from a public school in her hometown of Montclair, New Jersey, to the Solebury School, a private boarding school in New Hope, Pennsylvania. During her senior year at Solebury, she decided to stay an extra year as a postgraduate student.
Experimenting with art forms was one of her top priorities before going to college. Because the Solebury School is art-focused, she decided to take an additional year of elective classes. Two of her favorite courses were Literature of Hurricane Katrina, for which students read literature relevant to the 2005 tropical cyclone, and a journalism course, Reporting for Social Change.
"I felt like there were things I needed to learn about myself, things that I needed to do and things that I just wanted to learn about in general, not for credits or anything," she said.
Annette Miller, the dean of students at Solebury School, said that although a postgrad program does not exist at Solebury, Nachman worked with Steve Buteux, the associate head of school, to develop a program for her gap year. Miller said Nachman's time at Solebury shifted how faculty operate with students and also how faculty look at postgrad students.
Nachman said she followed her passion for photography by attending weekly concerts at The Meatlocker, an underground music venue in Montclair, and shooting photos.
"Trying to capture the looks on their faces when certain songs play and just how people are — especially that venue, people are so much more friendly to each other, and I really loved capturing that," she said.
Shortly after, Nachman utilized these photos by launching her own independent magazine, YIKE!.
"I want to combine my love for graphic design, my music photography and my writing into one sort of thing," she said. "A zine just made the most sense to me."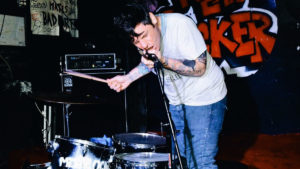 For the first issue of YIKE!, Nachman interviewed notable punk bands such as Pinegrove, Hodara and one of the members of The Front Bottoms. These groups are well-known among the do-it-yourself punk subculture, which rejects consumer culture and advocates for DIY production and distribution techniques without corporate sponsorship. Creative methods of communication, such as zines, are a prominent part of DIY culture.
"It's kind of catered toward people in the DIY scene that consume this odd kind of media," she said.
Nachman said there is currently one issue available, partly because it is difficult to obtain submissions. She said that when she does get submissions, they are from all over.
Jared Levy, head of the social studies department at Solebury, was Nachman's teacher for two courses. He submitted a piece to her zine.
The piece of writing that Levy contributed for the memoir-themed first issue of YIKE! is a vignette about him preparing to leave his job in New York and live in New Zealand when Levy was hit with a tragedy. He said it was accompanied by a some photography he completed when he was in college. In terms of the magazine, Levy said he was impressed with the final product.
"It's a very eclectic mix of music and personal essays and photography," he said.
Nachman plans for every issue of YIKE! has to have a theme. Nachman said she is currently modifying the theme to "six–word stories" to obtain more submissions. She said she hopes to release a new issue soon but is unsure of the exact date.
Nachman's booking agency, Punk Buddha Presents, was born in December 2016. Booking agencies work as the middle ground between fans and bands. The agencies, often local companies, operate by contacting artists to play live shows.
Punk Buddha, a name inspired by Nachman's religion and her friend Sophia Bermack's rap name, creates shows in the Montclair area. The primary target for marketing, Nachman said, was Facebook.
"As long as you're updating social media regularly, making shows, reaching out to artists and responding to your messages, it's good," Nachman said.
Punk Buddha currently has 319 likes on Facebook. The booking company does make money, but Nachman said $200 is given to the music venue first. After, Punk Buddha Presents gives money to touring bands and local bands, and then the leftover money is split between her and Bermack. She said artists, such as Ian Vanek of Howardian, have messaged her with the intention of playing a set through their company.
At the college, Nachman works at VIC Radio, running a specialty show from 6 to 8 p.m. on Tuesdays called "DIY Dump." Outside of school, she volunteers with Ithaca Underground, a nonprofit underground music community.
While Nachman said she knows she could take her career in many routes, she wants to pursue a career in music supervising.
"I want to be the person that picks out the soundtracks for movies and TV shows," she said. "When I'm at shows, I'm not just running around doing a million things. Now I'm thinking, 'I can picture a scene that this song would work perfectly in.'"