After unsuccessfully auditioning for other a cappella groups at Ithaca College, students have created their own a cappella group to give themselves and their peers a second chance to sing.
Freshman Evan Hangley and his friends created the a cappella group The Accidentals in Fall 2017. Hangley and his friends, the majority of whom are freshmen, planned to audition for one of the four on-campus a cappella groups.
The four groups are the all-female Premium Blend, all-male Ithacapella, and the coed IC Voicestream and IC Pitch Please. IC Pitch Please is the largest group at 30 members, while the other three offer between 14 and 16 slots. Only 75 positions are available among the four.
Hangley auditioned for IC Voicestream but was not accepted after attending callback auditions. His friends, who also auditioned for IC Voicestream and other acapella groups, also were not accepted after their callback auditions.
"After that, we kind of all went together and were like, 'Why don't we try to start our own thing?'" Hangley said. "And that's exactly what we did."
Hangley began the paperwork to become recognized by the Office of Student Engagement and Multicultural Affairs in September 2017. The Accidentals was officially approved as a club in the last week of the fall semester. Hangley and the others spread the idea of a new a cappella group through word of mouth to their mutual friends, and they held auditions. In October, 15 people were accepted into the club. Hangley said the group will be holding auditions for 11 open spots at the beginning of Fall 2018. Auditions will be held after the other on-campus a cappella groups have made final acceptance decisions. The group will offer audition slots to those who were not accepted after the initial audition or after the callbacks for the other groups.
Freshman member Damien McMillan was not accepted into Ithacappella and missed his audition time for IC Voicestream due to his family visiting. His roommate, freshman Aidan Glendon, was one of the people who attended callbacks auditions with Hangley and became one of the first members of The Accidentals. Glendon introduced Hangley and McMillan, and McMillan joined the group after auditioning. McMillan said The Accidentals provided an opportunity to continue singing.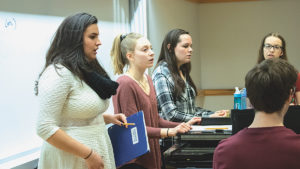 "Everyone who's in it pretty much tried out for another a cappella group or didn't get a chance to try out for one," McMillan said. "The Accidentals luckily came around and gave us a chance to try again."
McMillan said the group has six songs that are being arranged and two songs that the group practices during rehearsals. McMillan declined to disclose the names of the songs. Freshman member Cassandra LaRose said both of the songs are well–known and modern and described one of the songs as an upbeat number and the other as a ballad.
During rehearsals, the group separates into their vocal sections, such as tenors, altos and sopranos, and works on their individual parts. Then, the group comes back together and rehearses as a whole, with freshman Maxwell Kuhnel, the group's music director, accompanying the group on piano to keep them on pitch.
The group is also practicing skills like sight-reading music. LaRose said the group taught these basic skills since some of the members joined the group with no prior experience reading music.
Hangley arranges the group's songs by ear, something he said he has been doing for years. He listens to instrumentals and transposes the pitches into sheet music for vocalists. He said he usually listens for a synthesizer, piano or electric guitar. Depending on the genre of the song, he listens for a beat that can apply to a beatboxer. He also creates original parts for vocalists.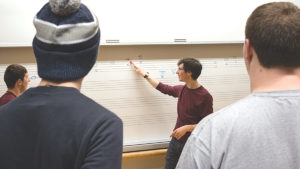 "First, I always listen for a bass line and I transpose that," he said. "Then, I listen for other background things. … Some of the parts I put in my arrangements aren't actually in the original song, and I'll just hum along to what I think works and try to fit it in."
Hangley said he is reaching out to other a cappella groups both on campus, such as Premium Blend, the all-female a cappella group at the college, and off campus, like the Nor'easters from Northeastern University, the Vassar Devils and the Boston University Trebelmakers. He said he has asked the groups to donate arrangements for his group to learn, and also for information on how to succeed as an a cappella group.
"We'd like to learn from them … what it's like to really participate in a cappella on a collegiate level as opposed to just running it in high school," Hangley said.
Hangley said The Accidentals plan to open with three songs for Premium Blend's Block IV concert in late April. This will be their first public performance.
Glendon said the group wants to encourage students to audition for all a cappella groups on campus because it provides more than one chance to be accepted into an a cappella group."I think The Accidentals is a little bit of an encouragement to go out there and try something new," Glendon said. "Even if you don't think you're amazing, even if you don't think you'll make it, it still encourages people to take a step out there and get out of their comfort zone, which I think is fantastic."