In Fort Garland, Colorado, we had a stay day and camped for two nights across the street from the old fort, which is now a museum. On the second day locals came to visit us at the museum, and we spoke to each other and watched a documentary together.
That day I gave a speech (which you can view here), and afterward many people approached me individually and told me how much I had inspired them and how much my words had resonated with their own lives. I was deeply touched, and all I could say in response was how they were the inspiring ones, not me.
Fort Garland was my first one-on-one interaction with locals along the route since starting my journey in Taos, NM. In my speech, which was unplanned, I told them about what was happening at my own home with the threat of dangerous gas storage looming over my lake. After telling my story, I made a promise I had not expected to make — I told the people of Fort Garland that just as I had given them my story, I would take their stories and carry them with me as I walked. Their stories have renewed my passion, and I want to share some of them here.
At the meeting in Fort Garland, Tom Wolter and Suzi Constance told us of their beautiful home they had purchased to spend their retirement in. It wasn't until months after they had bought it and moved in that they realized they didn't own of the property rights, and at any time gas companies could come in and legally drill on their property, dangerously close to their new home. They are fighting tirelessly to keep the drillers away, knowing that if they come they would need to leave for the sake of their health but would never be able to sell the house.

Tom and Suzi's neat home, as pictured on their business card.
While walking to our next campsite from Collector's Specialty Woods in Gardner, CO, we happened across a farmer named Jeremy coming up the road in his tractor. His dog was riding along with him. When he saw us he asked what we were doing, and when we told him about our mission he shared with us how his area has been suffering from drought for seven years. When we asked him if there was a message we could take to the White House for him, he replied:
"My momma always taught me that if I had nothing nice to say, don't say it at all."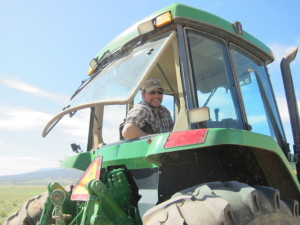 Just today, as we walked along a peaceful residential road, we came across a man named Ron doing yard work in front of his stunning home. We saw that some of the trees across the street from him were blackened, and we asked him what had caused that. He told us how in 2012 a wildfire started nearby, and although he and his wife escaped and his home was unscathed, 15 of his neighbors down the road lost their homes.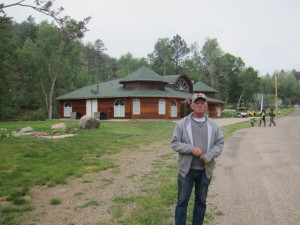 Ron in front of his octagonal home.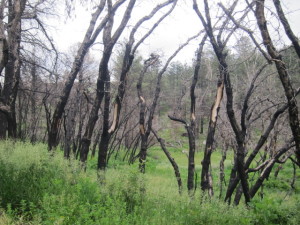 Black, scorched trees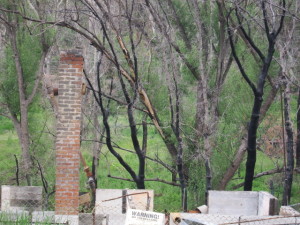 A home that didn't make it through the fire.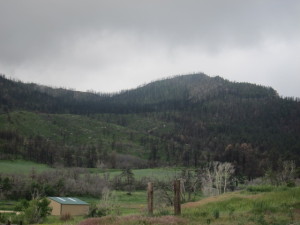 In this picture you can see the hillside is covered in black skeleton trees.
Climate change is real. How do I know? I have met those who have been and are being affected by it right now, and I am one of those people. When I was a child, there was enough snow by November to build grand forts with and have snowball fights of epic proportions. Now, we are lucky to have snow on Christmas Day in New York.
The people we have spoken to have told us that we give them inspiration to keep up with their local work for positive change. But what many don't understand is that, in return, they give us the strength and determination we need to keep putting one foot in front of the other.