As the end of Fall 2022 approaches, all of Ithaca College's clubs are wrapping up their time together before winter break. Two dance companies, IC Defy and IC Unbound, had their end-of-the-semester showcases Dec. 3 and Dec. 4, respectively — ready for the pay off for months of work.
IC Unbound's showcase, "IC Unbound Dance Company in Technicolor," boasted 24 student-choreographed dances, ranging in style from tap to theater to modern. The evening ended with a number to Destiny's Child's "Lose My Breath," choreographed by graduate student Treasure Blackman.
Another student choreographer was sophomore Cassi Silver, but beyond choreographing a number in the show, she participated in five other dances. She said she has been learning something new every day from being a choreographer now, after having danced for 15 years before joining IC Unbound. She said she has become a much better dancer this semester, which is only her second with the company. 
[slideshow_deploy id='46018′]
The song she chose to choreograph was John Kander and Fred Ebb's "All That Jazz" from the musical "Chicago." Silver said she had been imagining choreographing a dance to the number from "Chicago" since she joined the club in Spring 2022. Even though she underestimated how hard it is to track all the minute details of the dancers, she said she is very grateful she got the opportunity to see it come to life. 
"When you are choreographing a dance, there are a lot more logistical aspects than I think people realize," Silver said. "There are so many things you need to think about blocking and movement-wise." 
While Silver said she found herself challenged throughout her process of choreographing the dance, she said it was a valuable experience that helped her grow.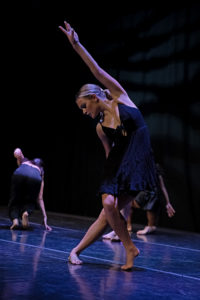 "I think being on the choreography side challenged me and has made me a better dancer," Silver said. "It's been a learning experience I've really enjoyed."
Junior Angelina Larkin also choreographed her own dance, set to a compilation of Doja Cat songs, including "Streets," "Kiss Me More" and "Options." She said her goal for the dance was to evoke confidence and a feeling of sexiness in her dancers while they performed it. She said she was inspired by the other dancers and choreographers she has watched develop their own creations and wanted to express the same kind of feelings that the songs evoke in her. 
"I wanted the dance to be all about confidence," Larkin said. "It's on the sexier side of things, but people shouldn't be afraid of that part of themselves."
For its first show after sending off its founding members in Spring 2022, senior Abby Stengel, president of IC Defy, and junior Madeleine Jimenez, vice president of IC Defy, said they were both ready to reinvent the company. Entering its fifth year, IC Defy is the college's newest dance company, and Stengel was ready for a change. She said she wanted to overhaul the structure of the company. 
Defy's showcase this semester was called "Emergence," signifying the company coming out as something new and fresh and making a new name for themselves on campus. The show included 21 student-choreographed dances, including some whole company numbers and some small groups. Junior Catherine Jantson, who is one of the co-chairs of Promotion on the IC Defy executive board, said the theme has always been an important part of the development of a show, but this time it felt very personal to many of the returning company members. Jimenez expressed her gratitude to the company for reigniting her love for dance once she got to college and wants to give something back to Defy, and a reintroduction to the school is what it needed. 
"When I got to college I wasn't really sure if I was going to dance," Jimenez said. "But Defy made me feel like I found a community, and I want to give back to it."
Jantson similarly said she was excited to see how IC Defy will continue to evolve and grow as a community.
"I guess in a sense we're emerging as a new version of Defy," Jantson said. "We love our alumni, but we have a lot of fresh faces this semester that people didn't associate with Defy originally." 
Although there are different structures and processes for creating their shows, both companies live in a kind of in-between space in the world of the college's extracurriculars. Stengel said that while dance companies are considered club sports some years, and arts club other years, they are ultimately both. Jimenez said she believes that dance is art, but people often underestimate the athleticism and precision of it.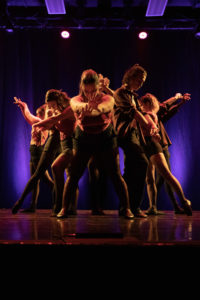 "It's absolutely both a sport and an art," Jimenez said. "There's creativity in it, so people don't totally expect it to be as challenging as it is." 
Silver said she thinks that dance is an incredibly meaningful and fulfilling experience with the ability to blur the line between sports and art. She said she has always felt a connection with the way music moves a person, figuratively and literally. And that connection, she said, helps her to understand herself better. 
"I remember when I was really little and first discovered my passion for dance," Silver said. "I was taking a hip-hop class, and the music turned on, and I just felt this rush of adrenaline, and I felt like [I] could express myself in any way through this kind of movement."
Both Stengel and Jimenez said they wanted audiences to walk away from the show in awe of their talent, but also thinking about the clear bond between the dancers. Stengel and Jimenez said they have formed such genuine and close relationships with the other dancers, and the dedication and love poured into the show has helped form a community around dance.
"I want everyone to leave Emerson Suites on Saturday thinking, 'That's a family up there,'" Stengel said.
Stengel and Jimenez said they want to encourage people curious about getting into dance to put themselves out there. There are eight dance companies on campus, covering a wide range of styles like contemporary, ballroom, hip-hop and tap. Jantson said that she truly believes that joining IC Defy changed her outlook on dance. She said prior to coming to the college, she had quit competitive dancing because of feeling unwelcome in her own company. But Defy made it enjoyable for her, and she said she found a community within the company that would bring the fun back to a childhood activity. 
Silver said she wants audiences walking away from the Unbound show knowing they had fun. She said she wanted audiences to have a great time watching the performance. 
"I just want people to enjoy it." Silver said. "I want people to yell and scream at the top of their lungs if they want, as long as they enjoy our show."