As the sun set, around 200 guests — some curious and some excited — lined up at a table in Campus Center to check in and collect glow sticks as "We're All In This Together" from the Disney Channel original movie "High School Musical" played from the terrace outside.
For one night only, Ithaca College students were invited by the Student Activities Board to step through a time machine back to the year 2000 to reminisce about their childhoods and share old memories with new college friends.
SAB's iParty, which took place April 27 at the Campus Center firepit, specifically targeted early 2000s nostalgia. Junior Annalese Winegard, president of SAB, said she came up with the idea to host a decades-themed party randomly one night after finding inspiration from the recent wave of early 2000s nostalgia on the internet. Drawing on nostalgia, the party got its name from the teen sitcom "iCarly." 
Winegard's goal was to invoke the feelings of attending a childhood summer pool party — complete with chicken tenders, Silly Bandz and shutter shades.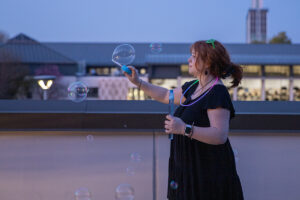 "I just feel like it's something you see on social media," Winegard said. "These are the good old days; everybody remembers this toy, remembers this show, whatever. … It just feels right. It feels like something a lot of people will be able to relate to [and will be] very engaging for everybody."
Many party planners and goers in general have taken inspiration from decades to come up with party themes. Decade-themed nights, a party theme centered around a certain decade like the Roaring '20s, the '50s and the '80s and their respective pop culture references, particularly capture the most nostalgic elements of each era, according to TV Tropes. The 2000s are the latest in the decades lineup.
Sophomore Melelana Wheeler said she decided to attend the event with her friends, sophomore Michelle Engler and senior Annabella Di Lillo, after hearing about it through social media and seeing it advertised on the monitor in Campus Center. 
"I feel like this is a different experience because when we go to '80s parties, we didn't live through that, so we don't know what it was like," Wheeler said. "But I feel like I still listen to 2000s music and engage in some of the pop culture, so I'm very familiar with it."
At the iParty, tables were piled high with some of the snacks familiar to American childhood, like Cosmic Brownies, Fruit Gushers and Rice Krispies Treats. Guests were also free to play with bubble wands, Play Doh and Pokémon cards. 
Chris Washburn '08, better known by his stage name DJ Washburn, spun some familiar 2000s classics — with students shouting out lyrics to songs like "Bad Romance" by Lady Gaga, "Starships" by Nicki Minaj and "Welcome to the Black Parade" by My Chemical Romance.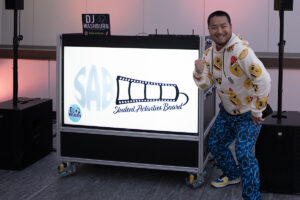 Junior Blake Matthews said the music is what particularly stands out to him when he thinks of growing up in the early 2000s.
"I think it's kind of awesome; I love it," Matthews said. "When I go out, sometimes they play all new music that's like, 'Oh, I don't know this,' but [I know] all the music from this era. It's just in my blood that I know all the words to these songs, so I have a really good time when I hear it."
From the Jonas Brothers' reunion in 2019 to the announcement of the "Mean Girls the Musical" movie in 2020, early 2000s nostalgia has taken the internet by storm — with members of Generation Z leading the charge online.
TikTok has played a pivotal role in fostering early 2000s nostalgia, with the #nostalgia tag reaching 18.9 billion views in 2021, according to Mashable. Dedicated accounts, like @nostalgia__hub and @daily.dose.0f.nostalgia fully lean into the early 2000s nostalgia, creating videos that replicate what it was like to be a kid growing up in the early 2000s. 
"[It's] a little weird because it's like, 'Oh, we're old now,'" Wheeler said. "But it is fun. … This was our childhood growing up, so it's like, 'Oh, I remember being little; I remember listening to this music. … So it's kind of fun to reminisce."
Toward the end of the evening, a raffle was held for attendees to win prizes like a Pillow Pet, a Razor scooter and a Nintendo Switch. As the party came to a close, the winner of the Razor scooter, first-year student Samantha Funk, excitedly scooted away while friends watched them maneuver across the academic quad. 
More than anything, Winegard said she hoped the event would serve as an opportunity for students of all years and majors to be able to connect with one another.
"I feel like I didn't really get super connected to campus until sophomore year, like second semester, sophomore year," Winegard said. "I feel like that's when I really hit my groove. These are my people. These are the clubs that I'm interested in. This is what I'm passionate about. So I'm glad that I can take that and really just perfect it."