The results of the Fall 2012 Campus Acceptance, Inclusion and Fairness Survey — commonly known as the campus-climate survey — indicate many perception gaps concerning inclusivity at Ithaca College among different identity groups.
The Office of Institutional Research released an executive summary, which captures a snapshot of students' and employees' views on issues of diversity and inclusion on campus, feelings of equal treatment, opportunities for open discussion and overall satisfaction with the college. Since 2012, the administration repeatedly delayed the release of these results without an explanation for the delay, finally announcing on Intercom Feb. 9 that they were available.
A persistent gap between the perceptions of white and African, Latino, Asian and Native American students with regard to these issues, as well as between heterosexual and lesbian, gay, bisexual and transexual identity groups — gaps that IR calls "statistically significant" — is common throughout the results.
Fifty-seven percent of white student respondents said they thought the college places a high priority on diversity and inclusion, compared to 26 of ALANA student respondents.
The gap between these identity groups remains significant in response to the statement that people at the college do not receive equal treatment, with 56 percent of ALANA students agreeing compared to 39 percent of white students. More than half of LGBT student respondents also agreed, while the figure for heterosexual or straight students was 41 percent.
Junior Elijah Breton, a Student Government Association senator, said these numbers reinforce truths that have existed for a long time, that unequal treatment arises from holding some individuals accountable and not others.
"It's black and white now in that there is a lack of inclusion within our campus climate," he said. "The reality of the situation is that right now, in terms of treatment and microaggressions, white students have it better than ALANA students, and heterosexuals have it better than those who identify in another sexual orientation."
Breton co-authored a bill to combat microaggressions within the School of Health Sciences and Human Performance in September 2014, prompting a series of similar bills in the other schools. In a similar effort this time last year, the SGA launched the Task Force on Diversity and Inclusion to provide a springboard for discussion about microaggressions on campus.
Open dialogue was another issue addressed in the campus-climate survey, wherein less than half of respondents agreed or strongly agreed there is sufficient dialogue among different identity groups at the college.
This is something Aaron Lipford, SGA vice president for campus affairs, said is still an issue on campus, but one that has improved since 2012 — thus the need for a new survey with new results.
For example, he said the college's celebration of Martin Luther King Jr. Day has expanded to include seminar-style discussions, and there are four LGBT student organizations on campus, including representation from allies, who host activities and film series through the LGBT Center. The fall semester saw a series of rallies and protests organized by a group of students pushing for awareness on issues of racial justice.
Stephen Mosher, a sports studies professor who was the adviser to the SGA representatives for HSHP on the microaggressions bill, said this increased communication has brought some neglected issues above ground.
"We may be approaching a tipping point at this college with respect to these areas of concern," he said. "The voices that are saying 'all is not well with Ithaca College' should be listened to seriously."
Fifty-five percent of respondents said people at the college are not treated equally. When asked on what this is based, the category of disability had, by a small margin, the highest response rate.
In addition, 25 percent disagreed with the statement that the college provides good physical access to its buildings and facilities.
President Tom Rochon also emphasized the purpose of the 2012 survey being a baseline data point for future discussions and surveys, saying in an email that its importance is "easy to over-hype."
What is of more importance, he said, are the actions currently being taken to address and improve the campus climate, referencing last semester's student protests, last year's microaggressions discussion that has continued into this year and the implementation of the diversity requirement in the Integrative Core Curriculum.
"The survey and its results are one small part of a larger set of developments that focus our attention on the only question that matters: 'What would a fair and inclusive campus community look like, and how can I contribute to it?'" he said via email.
Should the college survey the campus again, Cedrick Michael-Simmons '14, former SGA president who was active in pressuring the administration to release the results last year, said a new survey may reveal a smaller gap between identity groups' perceptions of inclusivity on campus, but not in a positive way.
"I don't think you'll have more students of color saying Ithaca College has done a great job with respect to these issues, but you'll have more white students saying we do have issues we need to discuss related to diversity," he said. "More people are aware of what's taking place because there have been many efforts to make it visible since 2012."
Linda Petrosino, interim provost and vice president for educational affairs, said the college plans to work with an external consultant next fall to determine a process for the next campus-wide survey, which is intended to be implemented in Spring 2016.
Breton said though progress has been made, what remains missing is an appointed person for students to go to with concerns about diversity and microaggressions. This has led to two main issues reflected by the survey: a reported lack of accountability and a low comfort level discussing these issues with faculty or staff.
From the faculty perspective, Mosher said it is aggravating to not have a clearly defined course of action to guide students through.
"It's frustrating to be an ally for students because we don't know where to go either," he said.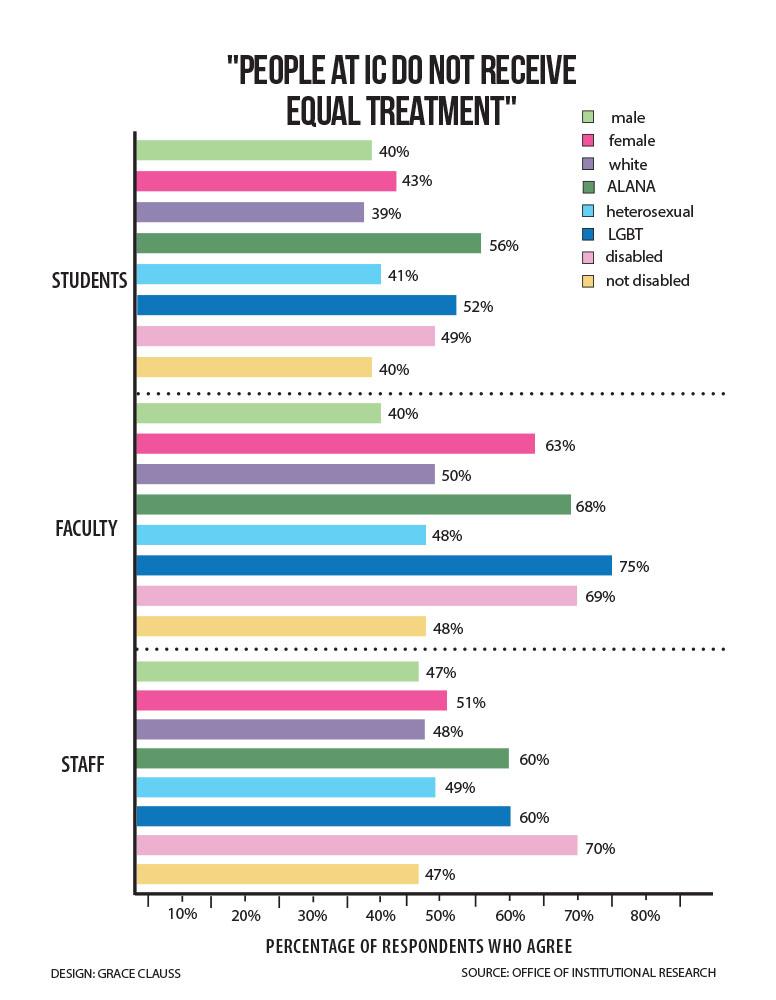 Between 50 and 60 percent of student respondents reported low comfort with discussing diversity with staff, and according to the executive summary, the college holding individuals accountable for their behaviors and actions was an area with the least positive responses for both students and faculty. Breton said this idea is one reason for students to not be motivated to participate in the survey — the perception that nothing will change because of it.
Michael-Simmons said acting on the survey would be an opportunity for the college to be a role model for other institutions. Many of the issues evident throughout the survey responses are national issues experienced by college students everywhere, but to openly acknowledge them could place the college in a leadership position within higher education.
"This is happening across college campuses, but I think that that is not an excuse for Ithaca College to not be responsible to deal with these issues for the students who are specific to the college," he said.
Petrosino said the survey response rate — 37 percent of the entire campus — indicates an interest in discussing and "taking ownership" of the "local" issues.
"The 2012 campus-climate survey can be considered, I think, a beginning point from which we move forward," she said via email.
Yet, Simmons said during his time at the college, he observed diminishing resources supporting students of color and students with disabilities. For example, last spring, it was announced that the program "An Inside Look," which offers ALANA students a chance to visit Ithaca College, will no longer invite prospective students to stay overnight during their visits.
Asma Barlas, a professor in the Center for the Study of Culture, Race and Ethnicity, said the center had to work for years on getting the Asian American studies minor, which she said still does not have a full faculty line. Most recently, she said Rochon cancelled a meeting to discuss evolving the Native American Studies minor, but the meeting has been rescheduled to Feb. 16 with Petrosino instead.
Several instances of purposeful campus-wide dialogue about issues of race, diversity and justice on the college campus have been visible since 2012. Breton said the campus needs a culture wherein these conversations happen on a more frequent basis and without undue pressure.
"You can't manufacture opportunities for dialogue. It has to happen naturally," he said.
Lipford said it's difficult to analyze or think critically about the executive summary that was presented due to the nature of the questions and summaries available — many are vague, using descriptive words restrictive to "positive" or "least positive."
Though the results do not surprise Breton, he said they at least represent, for him, a call for action that the administration can no longer ignore based on a lack of data.
"There is nothing now that administrators can dodge — it's time for administrators to earn their paycheck," Breton said. "They're going to have to face making real policies change."
Moving forward, SGA President Crystal Kayiza said the fact that the survey's results shock no one is a reason to conduct another one, one with a more structured analysis, transparent methodology — conducting it through an external source — and an engaging platform for solutions that can be discussed every year, not just every four years.
"The campus-climate survey is one piece of radical change that needs to happen on campus with diversity and inclusion," she said. "It's a reflection of national dialogue, but that doesn't mean [the administration] shouldn't hold themselves to higher standards."