This past week I've been swamped with homework, papers, and interviews, and all the hard work that I've been doing with The Advocacy Center's Bringing in the Bystander program is finally coming together—but the entire time all these thoughts have been bouncing around inside my head, all these things I learned at the National Young Feminists Leadership Conference I mentioned in my last few posts that I've been dying to share with you fine people.
So here goes:
Last Friday afternoon I crammed into a car with four other women with a backpack full of clothes and a bag of Doritos and we started our six hour journey from Ithaca to just outside Washington, DC to attend the National Young Feminists Leadership Conference. We drove through snow, traffic, and encountered several terrible truck drivers to get there but it was completely worth it. The six of us spent the drive talking about our organization, talking about different experiences that we've had identifying as feminists openly at Ithaca College, and just getting to know each other better in general. It was a great bonding experience and it reaffirmed for me the importance of being surrounded by a support system of activists.
It also reminded me that I am a completely different person than I was two years ago and I walked up to the Feminists United table at the student organization fair freshman year. I was no longer just going to meetings and engaging in discussions, instead made the fight for gender equity a part of my everyday life and was taking tangible action.
When we arrived at our hotel, the woman who was checking us in smiled at us and said: "Good for you girls. I was a seventies girl and we need to keep fighting."
This stuck out to me because in a world where a lot of people cringe at the mention of the word feminism, the support from this stranger was much appreciated. She's right—we still need to keep fighting.
The next morning we walked into a room completely full of young activists. We were given large, bright pink name tags and folders stuffed with information on the reproductive justice movement, guides for campus activism and student mobilization, and fact sheets on intersectional feminist issues. I'll be honest…it was slightly overwhelming but being surrounded by other people who care about the same causes I do while reading descriptions of workshops on Title IX, making inclusive student organizations, using social media to create change, and panels on different identity groups, I felt empowered. It reminded that I am always learning as a feminist but so ready and excited to learn at the same time.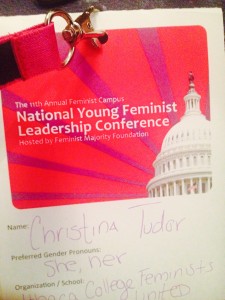 I listened to speakers share their stories up on stage. I listened to women who were so open and proud of all the aspects of their identities. I listened and I hoped that one day I would have the chance to be in a similar space, sharing what I have to say with other young activists.
I carried a little purple notebook with me the entire conference that now has pages of notes from the different panels, speakers, and workshops that I attended. But something that sticks out to me the most is something that one of the speakers said: "You have the right to be you" and "be sure to tell people who you are and how you want to utilize your identities to change the world because that's how you can change the world."
That's exactly what I'm going to do. I'm going to make a commitment to embracing my identity in all of its complexities. I'm going to bring my personal experiences to the table to make real change.
I learned so much at the conference by listening to different students, professionals, and activists speak at panels. I listened to other students talk about what was going on at their campuses and how they are organizing around feminist issues. For example, one school took sexist, problematic YikYak posts and put them up all around campus after administrators did nothing about it. I felt a part of community collectively working together to make the world a safer space for everyone. I learned so much from others who were there and I learned so much about myself.
I learned even more outside the conference when we were on Capital Hill and I missed class for the second time this semester to talk with legislators. Not only did I get to discuss issues that I care about with other activists, I got to bring them to people who have the power to make legislative change.
I also have concrete ideas that I want to bring back to my campus. For months now, I've been researching college campus activism as a part of my internship at The Advocacy Center but I've been stuck and unsure how to take that information and turn it into a tangible resource for students. This weekend gave me my answer. I'm going to take the different pieces of information that I learned from panels and other experiences at NYFLC and I'm going to make a guidebook teaching people how to become activists with tips on how to mobilize around these different issues.
We spent our last day in DC and after we finished lobbying the five of us sprawled out in the grass enjoying actual sunlight after struggling through another Ithaca winter. I wasn't ready to go home and leave DC. I wanted to stay with this community that I had found. I hope that one day I can find myself back in DC fighting for change full time.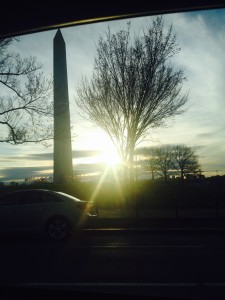 The conference may have been over but we spent almost the entire six hour car ride home talking about the changes that we want to make to our organization and ways to improve our campus. I opened up and shared personal stories with them and I realized that I'm so lucky to have them as a source of support and to be a part of this community of awesome activists.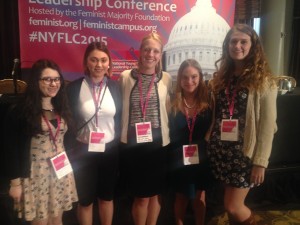 I could honestly go on for pages about NYFLC but I'll wrap it up now. Even though I'm back in Ithaca and back in school-mode, I'm going to make a commitment to bring what I learned with me and share it with others.
All the best,
Christina