One of the hardest parts about eating on a college campus for me is the presence of my favorite guilty pleasure foods at lunch and dinner.  Cheeseburgers with a pile of fries on the side are so easily attainable at the Towers Dining Hall.
But the fries.  Thick, crunchy, skinny, soft; they are incredible in any form.  Back at home (Manhattan) there are several restaurants that I have been to that center their menus around the potato wonders.  And when my family goes to a diner or any place that smells of a grill, I know what I'm getting.  So my first week at I.C., of course I was going to have french fries with every meal.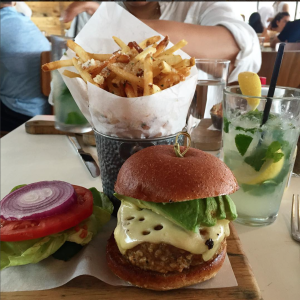 But the fries…
Time Magazine
says that "
A medium order of fries has 365 calories along with 17 grams of fat, a full 26% of your daily value. Sodium clocks in at 246 mg, or 10% of the upper limit you should eat in a day."  Obviously, I still knew that they were bad for me when I was taking any chance to fill my plate with them.
For my first weekly challenge, I dare myself and others to stay away from french fries for a whole week.  Let's substitute the oil soaked potatoes for carrots or something!  I'll report back to tell you if I succeeded, and how I did it.