Voices and Visions in Black Cinema
Cornell University is hosting a film series focusing on pieces by African-American directors. Two of the films have already been shown, and three are coming up later in the semester. 
The series includes film screenings in the fall and a speaker series that will run throughout the academic year wherein multiple speakers will discuss the impact of black cinema in the film world.
Voices and Visions is sponsored by the Department of Performing and Media Arts and the Minority, Indigenous, and Third World Studies research group, a group that consists of Cornell faculty and students in the College of Arts and Sciences. The series was created by Samantha Sheppard, a film professor at Cornell. Sheppard said she came up with this idea last fall because she wanted to create a film series that celebrated the historic black cinema that had an impact on the movie industry but was underappreciated.
"The main thing that really made me want to do this is there's this wealth of amazing films that really should be shared," Sheppard said. "People should understand the context of, as well as have, the cinematic experience that allows them to look at this amazing amount of cinematic history on screen."
Sheppard said although it was hard to choose these films out of the many great works created by African-American directors, she chose the ones that were groundbreaking in the time period they were made.
A majority of these movies are independent features, so they have become difficult to access throughout the years, Sheppard said.
"You're seeing these works that had life and had an impact, but somehow got forgotten," Sheppard said.
While Sheppard was the sole curator of the films, she consulted Mary Fessenden, director of Cornell Cinema, to gain access to some of the films. 
"I was already planning to do a series to celebrate the 25th anniversary of Milestone Films, a distributor that handles two of the films that Sheppard was interested in having in her series, 'Killer of Sheep' and 'Losing Ground,' so things fell into place quickly," Fessenden said.
Pianist Philip Carli, a faculty member at the Eastman School of Music at the University of Rochester, performed an original composition accompanying the Sept. 2 showing of the silent film "Within Our Gates."
"I've been doing this for 40 years, and it's kind of a complex business," Carli said. "I try, as a composer and an improviser, to harmonize the rhythms, themes and structures of the film — not only as I see them, but as I perceive them."
Sheppard said the series as a whole will provide a unique cinematic experience.
"All of this is just providing a new and innovative way of thinking about black cinema," Sheppard said.
For more on these films, visit the Voices and Visions website at http://cinema.cornell.edu/series_Fall2015/Visions.html.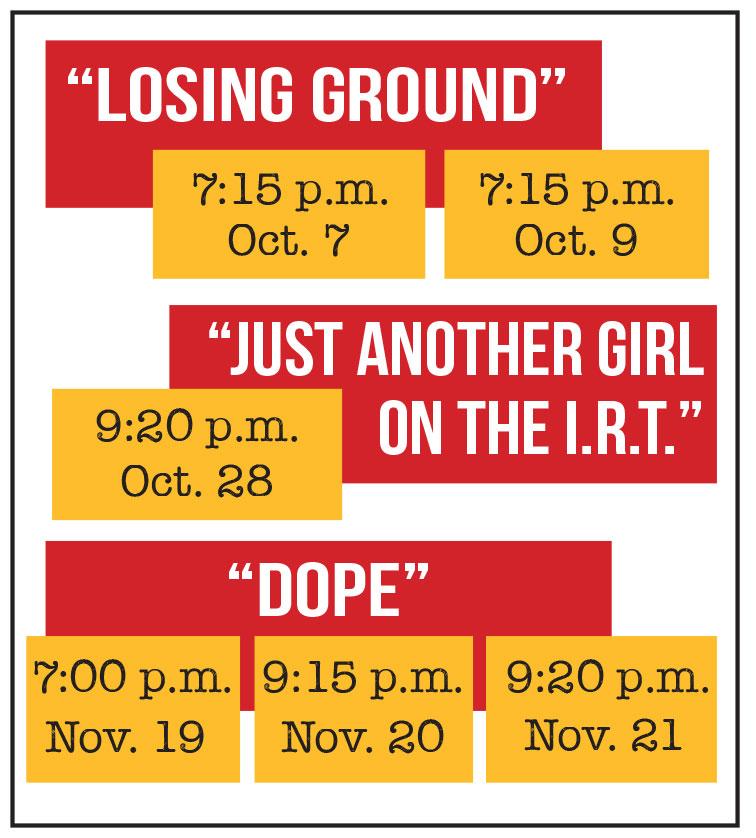 This story has been modified to correct errors in an earlier version. 
Olive Branch Film Series
The Olive Branch Film Series is using documentaries and fiction films to educate the Ithaca community about the history of Palestine and its effects on current events. The films will be shown at Cinemapolis throughout the semester.
Harriet Malinowitz, a writing lecturer at Ithaca College who helped organize the event along with others in Ithaca, said the formation of Israel was done by Zionists in Eastern Europe who wrongly believed that Palestine wasn't already inhabited. She stressed that the majority of the Jewish community did not support the Zionists.
"Most Jews at the time did not agree with the Zionists," she said. "They had a saying that happened to be inaccurate: 'A land without a people for a people without a land.' The forerunners who went over [to Palestine] and started to try and develop this Zionist vision realized at a certain point that other people were there. But somehow, this was not fully transmitted back."  
Neil Hertz, who formerly taught at Al-Quds University in Palestine and is working to organize the Olive Branch Film Series, said the goal of the film series is to educate people about what life is like for those who live in the region.
"We are trying to get people to be more aware of what life is like for Palestinians — both the ones who live in Israel and are citizens but are really kind of second-class citizens and the ones who live on the West Bank and are living in an occupation," Hertz said.
Malinowitz said she hopes the films will humanize the Palestinian people who are often portrayed negatively in the news.
"People used to have the perception that Palestinians were terrorists," Malinowitz said.
Malinowitz also said one of her priorities is to use the film series to reach outside of the Jewish community, especially to high school and college students who get most of their information from sources which she says are misleading.
"Most people tend to know more about the Israeli side, and that's because media has focused on that," she said. "Until very recently, when Israel would bomb Gaza or Lebanon, we didn't really see the fallout from that. The reason why I want to bring Palestine in the form of film [to students] is because people can get a lot of information on the history and what Palestinians themselves are actually saying."
For more on these films, visit the Olive Branch website at http://olivebranchfilmsithaca.net.