POC at IC is holding a "Solidarity Walkout" today in response to ongoing racial tension at Ithaca College and in solidarity with University of Missouri and continued racial injustice nationwide.
This post will be updated as the story develops.
UPDATE 2:24: The demonstration is wrapping up as protest leaders tell people to go back to classrooms and cause a disruption by informing other people about the situation. 
UPDATE 2:15: Chants of "Tom Rochon: No Confidence" have resumed as the group marches to Free Speech Rock at 2:20.
UPDATE 2:01: The group is now holding 20 minutes of silence in solidarity with other campuses.
UPDATE 1:58: Students are sitting and lying in pathways while other students walk by. Students continue to chant "Tom Rochon: No Confidence."  Although the protest started at free speech rock, it is now spread farther into the Academic Quad toward Peggy Ryan Williams.
UPDATE 1:47: Sophomore Tyler Reighn spoke and said POC at IC has no desire to work within the "broken structure" of Ithaca College. Another student took the stage and laid out three goals POC at IC has. The group wants Tom Rochon to resign or be removed, radical transformative change in governance and structure at Ithaca College and to bring a sense of safety and dignity to campus. An estimated 1,000 people are in attendance. The group is holding a "die-in" on the pavement near the Academic Quad stretching toward the Peggy Ryan Williams administrative building.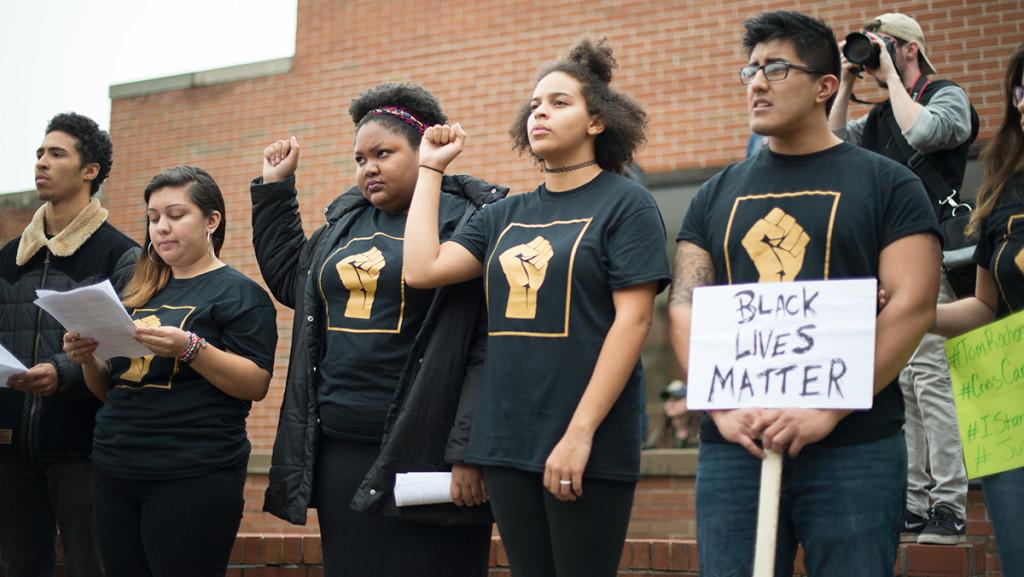 UPDATE 1:36: Around 400 community members are gathering around Free Speech Rock, a number which is increasing. Members of POC at IC are passing out the document "The Case Against Tom Rochon."
POC at IC stands for People of Color at Ithaca College, a group that was formed in response to recent racial tensions at the college. The group created its Facebook event Nov. 9, which has 724 people listed as "going" and another 1,800 people invited at time of publishing. This comes the day after Faculty Council voted to hold a vote of no confidence in Tom Rochon. Additionally, the college's student body is holding a no confidence vote.
The group's Facebook event said: "With University of Missouri's president stepping down, we demand Rochon to do the same as it is vital to fight against both covert and overt racism in all places of education and empowerment."
The walkout is scheduled to begin at 1:30 p.m. at Free Speech Rock.