Ithaca College President Tom Rochon announced the creation of a chief diversity officer position to provide leadership over "ongoing work to improve our campus' racial climate."
The position was announced Nov. 10. Rochon said the position was added to improve the campus's racial climate, which has been shaken after a string of incidents since the beginning of the fall semester.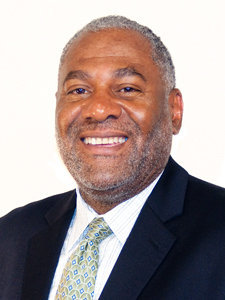 Roger "Doc" Richardson, associate provost for diversity, inclusion and engagement, will serve as an interim during a national search to fill the position, while continuing to do his current job.
The position will act as a liaison between the African, Latino, Asian and Native American community and the administration, as well as a resource for the president to keep up to date on race issues on campus.
"I will need the counsel and full-time focus of a strong and experienced leader with deep knowledge in this area in order to make progress with appropriate speed, inclusivity, accountability and transparency," Rochon said in the announcement.
The search for the new position will begin at the end of the fall semester, Rochon said, and should conclude in the spring.
Members of the campus community, including faculty, are voicing concern over the creation of the position.
James Pfrehm, assistant professor in the Department of Modern Languages and Literatures, said he is concerned about the financial consequences it might have and said the last thing the college needs is another top-level administrator.
"The answer to IC's diversity sensitivity challenges should be pursued in the classroom, with constructive interactions among students, faculty, and administrators. The answer isn't in further bloating an already bloated administrative machinery," Pfrehm said in a comment on Rochon's Intercom post.
Jonathan Ablard, associate professor of history and co-coordinator of Latin American studies, said he agrees with what Pfrehm brought up and believes 90 percent of faculty would, too.
Dominick Recckio, president of the Student Government Association, said the position creates, essentially, a diversion for Rochon.
"President Rochon has pushed off the responsibility that he has to diversity off to a scapegoat. Someone else in the administration that can be blamed for these things, someone else who will have to speak on these issues," Recckio said.
Crystal Kayiza '15, the 2014–15 president of the SGA, said her executive board's initiatives last year included creating a leadership position around campus climate, diversity and inclusion.  Kayiza and members of her executive board had multiple meetings with administrators discussing these issues. She said at one point they were meeting every week.  
"It was made very clear to me during these conversations that our purpose — which was to create substantive change — would not take priority over the president's agenda," Kayiza said. "A chief officer of diversity was not on the table."
Kayiza said the creation of the associate provost of diversity and inclusion was "a Band-Aid solution to alleviate tensions on campus."
"It took walkouts and protests for the president to get behind this position — a position that was proposed long before he decided it was valuable," she said. "It took years of quiet resistance by administrators and the labor of students to initiate this change."
Recckio said although he's glad the position is finally created, the upset on campus stirred Rochon to create it.
"I think it's great that we finally have a chief diversity officer now, but the fact is the college is using it strategically," Recckio said.
POC at IC, which stands for People of Color at Ithaca College, emerged about three weeks ago surrounding concerns about the college's responses to race-related incidents. The group released a statement on the group's Facebook page saying the strategic timing of the release reveals administrative unrest and an effort by Rochon to shuffle off accountability.
"A chief diversity officer is needed at this institution, but the fact that it comes today shows that in turmoil, President Rochon is first to step forward and pass responsibility and accountability off to someone else. President Rochon is the person who needs to be held accountable, not a new person brought in," the statement said.
Recckio said with everything taken into account, the announcement makes him less confident in Rochon.
"It's way too little, way too late," he said.