There was never a dull moment in marketing professor Michael LaTour's lectures.
"He was a very animated and engaging person," his wife Kathryn LaTour said. "He'd maybe prepare a couple of slides, but … it would just kind of become its own experience. It was a very fun, free-flowing kind of class."
On Nov. 8, LaTour, 61, died "peacefully at his home," according to a Nov. 13 announcement by Ithaca College. He leaves behind three daughters, Zoe, 12; Katherine, 19; and Madeleine, 21.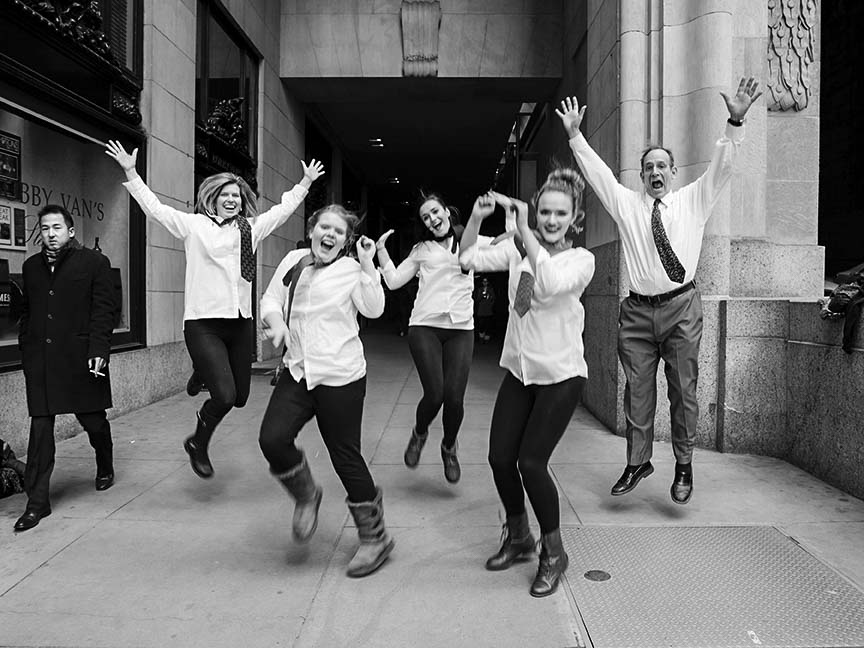 After teaching stints at a host of institutions that included Cornell University, Old Dominion University and Auburn University — where he met his wife, who is currently a marketing professor at Cornell — LaTour began teaching at the college in Spring 2015. Colleagues and former students describe LaTour as a dedicated, personable and fatherly figure both in and out of the classroom.
To increase his students' love for marketing, LaTour often utilized personal anecdotes. For example, when he lectured on intergenerational differences, he'd bring in an Associated Press photograph of his father fighting in the Normandy invasion during World War II. Kathryn said he'd use the photograph to illustrate the differences between the "Greatest Generation" and today's millennials.
"He would story tell and bring up the photo and get really animated," she said. "He'd get the students who may not know very much about that generation to experience it through his eyes and through his dad's eyes."
Kevin Turnbull '15 said LaTour constantly pushed him to find his passion not just in his career, but in his life.
"I know that sounds really cliche, but he wanted us to find passion in the most boring of things or the most remedial of tasks because in life you have to do that," Turnbull said.
Benjamin Daumas '15 took a Cornell class with LaTour through the IC-CU Exchange Program during LaTour's time at Cornell. He echoed Turnbull's sentiment.
"It was my first class at Cornell, so I was a bit stressed about it, but he made it a wonderful experience," Daumas said. "I found my passion there."
For many students, LaTour was much more than just a professor. Turnbull said he saw him as a mentor.
Turnbull, who is originally from South Africa, said LaTour helped him not only find his career path, but also vouched for him when it came time to apply for jobs.
"Finding a job in the U.S. was a little bit of a daunting task," Turnbull said. "I think we spoke on the phone biweekly and emailed over the course of the summer. He checked up on me."
Turnbull said though LaTour's "outside laugh and booming voice" made him popular in the classroom, he found him to be introverted outside of it.
"He truly was the kind of teacher you wish you had," Turnbull said. "He definitely quickly became one of my most inspirational teachers."
LaTour was also well-respected outside of the classroom, where his research was frequently published in some of the most prestigious academic journals in his field, including the Journal of Consumer Research, the Journal of Marketing and the Journal of Advertising.
Scott Erickson, professor and chair of the marketing and law department, said LaTour never let his lengthy list of accomplishments inflate his ego.
"His reputation was such, in terms of his scholarship, it was very well–known," Erickson said. "The business school, we don't often see that. He could've come in and kind of big-timed us, but he was always very friendly."
Erickson, whose office is directly across the hall from LaTour's, added that there would constantly be a "gaggle" of students waiting to speak with him
Outside of his career, Kathryn said she and LaTour frequently spent time outside, be it skiing in the winter or hiking and kayaking in the summer.
The couple took a trip to Napa, California, last spring when Kathryn attended a professional conference there. LaTour, who is originally from Northern California, treated the trip like a second honeymoon.
"We had a great time together," she said. "We drove around in a Mustang convertible, and it was just a lot of fun."
This semester, LaTour was on leave for medical purposes. His official cause of death has not yet been released, but Kathryn said it was somewhat unexpected as he had recently been making significant improvements with his illness.
She said her husband was even talking about returning to teaching next semester before he died.
"We thought, honestly until a couple of weeks ago, we thought he had a shot," she said. "It just went down very quickly. We knew he was sick, we just thought we had more time. We really thought he'd be in phase two of his treatment during the spring and be able to teach."
That was an indication, she said, of how much he loved the college.
"He didn't have the opportunity to be here very long, but he was very proud to be there," she said. "He really found a lot of camaraderie around campus, and he said it was the best place he ever worked."
Correction: The headline of this story initially incorrectly referred to LaTour's subject matter. This error has been fixed.