It's Saturday night. A brightly colored sign stands on the side of Danby Road, proclaiming that "Common Ground Dance Club" occupies the building hidden back in the woods. Inside, a Latin beat thumps through the club and about eight couples stand in a circle, beaming. Their hips swivel, their arms intertwine and their feet click against the large dance floor. As those who have come for the salsa lessons disperse, students and residents will pour into the newly reopened club to dance late into the night.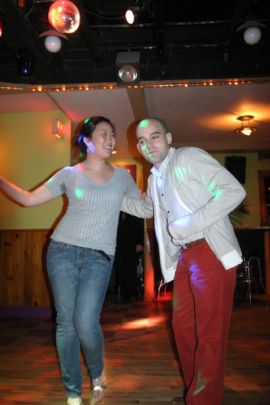 The walls that were once an intense red have been painted a cheerful lime. The dance floor that was once small and crowded has been expanded. Though the name on the sign still says "Common Ground Dance Club," the official name of this local landmark is now Oasis Social Dance Club.
A New Year's Eve bash Dec. 31 marked Common Ground's official "coming out" as Oasis. New owner Pam Kaminsky has taken over this "fun bar" from her predecessor, founder Doug Miller, and has shaped the club into a Caribbean-themed cabana, ready to stake a new claim in Ithaca's nightlife.
Ithaca resident Rik Daniels, a regular at Common Ground for more than two decades, said it was an important fixture in the gay community.
"Historically, I think gay people needed a place to be or to go where they felt safe," he said.
Miller and his partner Kris Marshall founded Common Ground in 1978. Miller was looking to open a club, and when the two men stumbled upon the original State Street location on their way to the laundromat, he seized the opportunity to create a haven where everyone could be accepted. After a decade, they relocated to the Danby Road location.
Since he first discovered Common Ground in 1986, Daniels has made his way past the rainbow-colored sign and down the gravel road to the club several times a week — on Fridays after work and on Sundays for the club's afternoon barbecues. He called the bar his "Cheers" and compared it to an American Legion "for gay people."
To Miller, this feeling of security and acceptance was part of his mission in founding the club.
"The whole purpose behind naming it 'Common Ground' was to bring in all different types of people from all different walks of life," Miller said. "Gay, straight, [bisexual], old, young, men, women, anything, all different types of occupations, students as well as townspeople — all in one place to have a fun time."
Looking to take a break from the nightclub industry, Miller had plans to shut the club down in November. Kaminsky had been looking to open a dance club in the area, and after talking to Miller, she decided to buy the Common Ground location and reopen it as "Oasis," because the name connotates an escape from everyday life, she said.
"I would always come up here to dance salsa on Tuesdays," she said. "And I saw his closing party [on Dec. 31], and I was like, 'Oh my God, Doug, you can't close it!'"
Though neither Kaminsky nor Miller classifies Oasis or Common Ground as a "gay club," both said they hope the clientele of homosexual and straight students and residents remains diverse and open-minded.
It might be just that attitude that draws so many students in. Sophomore Rose Cohen Westbrooke said she liked going to Common Ground because of its acceptance of everyone, regardless of sexuality.
"It was a really good place for you to go and just hang out and have it not be a big deal," she said. "Straight people could come, and it was just a great community hangout."
Bartender Clay Griswold, who usually just gives his first name ("Just one name, like Cher or Madonna"), said he feels a bond with the patrons. The middle-aged man with wire-rimmed glasses, a cheeky smile and a small hoop through one ear has worked as a bartender at Common Ground for 25 years and said he loves the club's familial atmosphere.
"People still consider this their home," Griswold said.
Stephen Pysnik '08, who often took salsa lessons at Common Ground during his college years, said he was relieved to hear the club was not shutting down for good.
"When I heard that Common Ground was closing, that pretty much broke my heart," he said. "And then a little while after I found out that they were going to new management. So at that point I was just really happy it was going to stay open and kind of hoped that they would basically keep the same aesthetic and feel and hopefully the same bartender."
Daniels said he was less worried about losing Common Ground as he has known it for so many years. He has been to the club since its change in ownership and hasn't noticed much difference between the two.
"I've found that I go to it and it's the same bar," he said.
There are some differences. Besides the paint job, dance floor expansion and new management, the club has also reinvigorated its menu. The new Caribbean theme has extended to its list of "light bites" appetizers and festive drinks, which includes Latin-infused wings and "Oasis Sunset Rum Punch."
Despite these changes, Daniels said he still feels a sense of stability. He said the characters and personalities of the bartenders and owners have kept the business going, no matter the name or the new paint job — which he called "even gayer now." Looking back on Common Ground's history — and toward Oasis's future — Daniels said the town of Ithaca has become more accepting, and the club doesn't necessarily need to cater to the gay community anymore.
"You could be yourself," Daniels said. "I think it was a gay bar [because] it had to be a gay bar. But I think the fact that it isn't today is relevant to the times."