It's an unusual sight in the Ithaca College James J. Whalen School of Music: four tuba players, dressed in Halloween costumes, belt out Europe's "Final Countdown."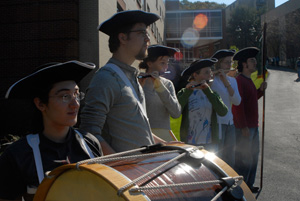 The act is part of Oktubafest, an annual Halloween-themed tuba and euphonium performance that features candy, costumed musicians and nontraditional tunes.
View a video of the tuba ensemble playing "Thriller." Michael Horsford, a junior euphonium music performance / education major, dressed as broccoli for the performance, complete with stalks of the vegetable attached to his green hair. He said the costumes are part of an effort to attract people who wouldn't normally attend a music school performance.
"[It's about] people coming together for tuba music," Horsford said. "Not a lot of people show up for other studio concerts, but we try to make ours fun."
Oktubafest is not the only unusual music-student gathering on campus. There are many musical groups on campus whose style goes beyond the traditional music school fare.
Since 1982, trombone players have been gathering in an extracurricular ensemble known as the Ithaca College Trombone Troupe. While participation in the group is not required, Phil Truex, a senior bass trombone music performance / education major and the group's president, said everyone in the School of Music's trombone studio is a member.
"When freshmen get here they don't ask, 'Do I have to do troupe?'" Truex said. "They go, 'When is troupe?'"
As its name suggests, Trombone Troupe is made up entirely of trombones. Because it is considered a student organization, the troupe is able to do things official school-sponsored ensembles cannot. The troupe plays gigs for money, which it uses to bring guest speakers to the studio. It also puts on workshops at local schools and churches, and has traveled as far as New Jersey and Connecticut to perform.
Erik Kibelsbeck, coordinator of music facilities and publicity at Ithaca College and conductor of Trombone Troupe, said members of the group get along well.
"It's always been a really collegial studio," he said. "That's fostered partly because they'll do these [gigs] together. They'll go to Syracuse in vans."
While not as old as Oktubafest or Trombone Troupe, The Fifes and Drums of Ithaca College fills an equally unusual role on campus. Senior Ernest Backus, a music education and percussion performance double major and the president of the Fifes and Drums, was a freshman in 2003 when two students from the percussion studio formed the group and asked him to join. The Fifes and Drums of Ithaca College is the first college fife and drum corps in the United States.
Right now, the Fifes and Drums has seven fifes — a transverse flute similar to a piccolo — three snare drums and one bass drum, all 1700s style. The group plays period pieces like "Turkey in the Straw" and "Yankee Doodle."
Backus said the group's colonial focus — the songs, the instruments and the traditional uniforms — offers a change of pace from more "normal" ensembles.
"There are a whole bunch of childhood tunes that actually were the tunes of the day," he said. "I think people just like the novelty of it. It's like, 'Oh, wow. You don't hear this very often,' and, 'Look, they're wearing funny uniforms.'"
The opportunity to play different styles of music is one of the things that draws musicians to performances like Oktubafest and ensembles like Trombone Troupe and The Fifes and Drums of Ithaca College.
While required ensembles sometimes select pieces students enjoy playing, both Truex and Backus said their smaller, stranger groups are especially fun.
"It's really cool because most people don't have any experience playing trombone quartets," Truex said. "They don't have experience playing seven-part, eight-part chorales. It's really cool to have a whole ensemble, top to bottom, of the timbre you've grown to love."
Despite their educational value, music school concerts are not well attended by non-music students, said Dave Unland, associate professor of music performance. One of Unland's goals for Oktubafest is to bridge the gap between the School of Music and the rest of the campus.
"[The School of Music] is like an entity unto itself, and it shouldn't be," he said. "It should be something that the entire campus enjoys and appreciates."
As the college's only tuba professor, Unland plays Oktubafest's gleeful ringleader. He alternates between over-enthusiastically conducting the ensemble with a color-changing light-up pen and egging the audience on in its amusement. He dresses in the full wizarding regalia one would expect from a professor at Hogwarts, including a pointed hat from which silver hair flows to his belt.
Along with Horsford and the other Oktubafest performers, Unland tries to get the audience involved with the show. He said he feels the lack of connection between the musicians and their listeners during some School of Music performances is to blame for the dearth of outside interest.
"If you come to an orchestra concert here … you're going to be in audience and they're going to be on stage in their tuxes and they're going to play great music," he said. "And if the conductor talks to the audience, that's great. Quite often they don't. But there's a separation. Not only physical, but there's not a lot of personal communication [going on]."
Horsford said performances like Oktubafest, along with groups like Trombone Troupe and the Fifes and Drums, are unusual enough to pique the interest of the rest of the community.
"It might be able to bridge the gap and show that [music majors are] not all stiffs … that we can have a lot of fun too," he said.
Truex said he thinks students who take an interest will be rewarded.
"Nothing beats the sound of 35 [trombones] just wailing away," he said. "It's a sight to behold. And the sound is even better."