The Amani Gospel Singers, Ithaca College's gospel choir, have been rehearsing for their next concert titled "Sweet Heavenly Dove" for several months. Staff Writer Thomas Pardee spoke with freshman Jaylene Clark, a choir member, about her past experiences with the group and her hopes for the upcoming performance.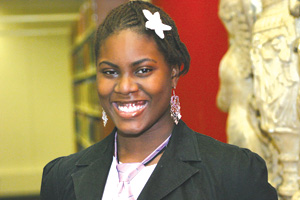 Accent: What is your role in the performance?
Jaylene Clark: I'm a member of the choir, and I'll also be reciting a spoken word piece.
A: What exactly is spoken word?
JC: Spoken word poetry is made for performance. A lot of the time, it incorporates body movement and singing. You really get to make an impact on the audience through the performance of your poetry. You feed off the reaction the crowd gives you.
A: How did you get involved with the Amani Gospel Singers?
JC: Honestly, I heard there was a
gospel choir, so I decided to join. I love it. I always participated in gospel choirs back home [in Harlem], so I felt very comfortable with this choir. They're like a family.
A: Could you describe the music that's going to be in the concert?
JC: It's gospel music, so there's a lot of soul in it. There are some very powerful songs, ministry songs. It's less about the performance and more about the message we want our listeners to hear.
A: What do you hope audience members will take away from the concert?
JC: I hope they are ministered to. I hope they hear the message we're sending about God and that you can turn to him no matter what. They can just leave the show feeling good, feeling blessed by our performance.
"Sweet Heavenly Dove" will be performed at 7 p.m. tomorrow in Emerson Suites. Tickets cost $2 at the door.