As part of Ithaca College's celebration of Black History Month, Whitehead coordinated a concert that will be held at 7 p.m. Saturday in Ford Hall. Several local choral ensembles are set to perform. Staff Writer Aaron Arm spoke with Whitehead about his reasons for planning the concert, as well as the message of hope he intends to convey through the music.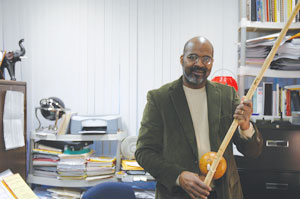 Aaron Arm: How did the idea for this concert come up?
Baruch Whitehead: African Americans don't necessarily identify Africa as a motherland. We understand intellectually that, yeah, our ancestors were slaves, but they were more than just slaves. They were artisans, … kings and queens.
Whitehead talks about what drives him:
AA: What type of music is going to be featured?
BW: All the music is either from Africa or in the African-American tradition. … We're going to actually present the telling of [African] history through songs.
AA: Do you think Black History Month gets enough recognition in this area?
BW: This is just my way of addressing it. … I also think that going beyond Black History Month and giving these children a sense of history is very important. … I think we all need hope. Hope is great.
AA: Can people relate to that sense of hope?
BW: I would hope so. … Hopefully, the seed has been planted, through this music, that somehow, when these children grow up, there's going to be a sense of looking at the world from a global viewpoint: What's my place in this? How can I help globally?
Whitehead talks about African music and religion:
AA: What would make this concert successful?
BW: I'm conflicted because most of this music was never intended for a concert hall. … When people listen to music from India or other parts of the world, if they don't understand the context in which the music was produced, they don't appreciate it. … Through the avenue of this music, we're making a connection.