Senior Jared Zirilli spent the summer of 2005 rescuing a princess, battling an evil tyrant and hanging with a genie. Playing the lead in "Aladdin: A Musical Spectacular" at Disney's California Adventure was a dream come true for Zirilli, but he said he's surprised he landed the role in the first place.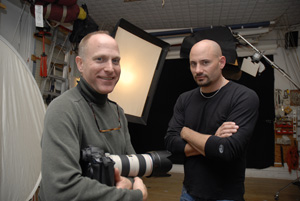 "I didn't have any headshots," he said. "I can't believe I booked that job because all I had was a little photograph of me."
For acting and musical theater majors at Ithaca College and virtually anywhere, a headshot is the first impression talent agents and casting directors have of them. More effort goes into these pictures than those not involved in acting may realize.
Senior Joanna Krupnick, a musical theater major, had her headshots done over fall break in New York City. Krupnick said she knew what she was looking for in her headshots and chose a photographer whose work she'd seen online.
"I wanted someone who was going to show off my personality," Krupnick said. "Eyes are really important in headshots because … they give you a glimpse of who [the actor is] as a person."
One of the most important rules about a headshot is that it has to accurately represent the way an actor normally looks. Susannah Berryman, associate professor of acting, said the mistake many young actors make is putting more effort into professional hair and makeup than they do on any given day.
"That makes [casting directors] mad because the person you really are is different from the person you've presented in your headshot," Berryman said. "The person in the headshot is the one they wanted to cast, and the person that comes through their door is somebody else."
Berryman, who has casted extras in previous years, said talent agents receive stacks of headshots every day and go through them very quickly, which is why a headshot needs to be compelling.
"There has to be something in it that pops out and says, 'Wait! Don't put me in the trash!'" Berryman said.
Cathy Madeo, an assistant agent at Bloc NYC Talent Agency in New York, said she is given 10 to 30 headshots a day and generally only calls back one person a month.
"A lot of times we get headshots that look like people took them with their digital camera," she said. "It's important to invest in it because that's your selling point."
Zirilli, a musical theater major, created his own Web site to showcase his commercial, print and theater photos, as well as his headshots. He said the type of acting he plans to audition for — theater, television, film or commercials — determines which of his headshots he will send. He said this is why it helps to have a variety.
"For soap operas, you want to look really serious and dramatic because that's how soap operas are," Zirilli said. "Everything's steamy and hot and sexy."
While his headshots have variety, Zirilli said he knows what look he wants to have based on the roles he has previously been cast in, which for him have typically been leading male characters.
"I don't have a lot of goofy, crazy pictures because that's not my typecast," he said. "That's not what I want to market myself as."
While most actors go to a professional studio to get their headshots taken, Zirilli was fortunate enough to find a friend to take them. Zack Wilson '07 took the headshots for a mere $150, compared to the $700 to $1,200 Zirilli knew many of his friends were spending to get their headshots professionally done.
Students do not have to convince friends or go to New York City to have professional headshots taken. Gary Hodges of Jon Reis Photo and Design on The Commons has specialized in portraits and headshots for 13 years.
Hodges said students from the college and Cornell University as well as local musicians come into the studio. He tries to talk to each client to get a feel for exactly what they need from the headshots. Though Hodges said he suggests angles and clothing color, clients often take their look into their own hands.
"We've had people come in and do headshots with a beard, and go and shave, come back and in within an hour's time do a whole new headshot without a beard," he said. "There's a lot of different options, and often it's based on what the person's needs are, and often it's where the marketplace is dragging them."
Headshots aren't limited to acting and musical theater majors, however. Lauretta Noller, a senior percussion performance major, opted for simple black and white headshots to help her toward her future career plan of becoming a member of the Blue Man Group. Noller said she had her personal headshots done quickly after taking some for the music school.
"I went for the softer look because I figure in person the softer look will add that difference because I tend to have a strong personality," she said. "I knew I could have a strong personality and didn't need a face to show it, I wanted to show a different aspect."