Junior Devan Johnson arrived at her house in Oneonta, N.Y., with her boyfriend Justin Luettger, a junior at Davis College in Johnson City, N.Y., on Halloween night to find a row of pumpkins carved in Disney font spelling the words "Will You Marry Me?" Johnson said seeing the lit proposal immediately sent her mind in all different directions.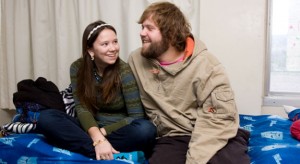 "I knew it was going to happen at some point, but it was like, 'Oh my gosh, this is that moment. This is it,'" she said. "Then I felt a giant panic. Not a panic of what am I going to do, but a panic of thinking a million thoughts and none of them being coherent."
Once the two were parked, Luettger read Johnson a letter and finished the proposal by asking if he should get down on one knee to give her his grandmother's ring. It was a moment Johnson was too excited to wait for.
"I was like, 'Put that on my finger,'" she said.
Johnson and Luettger are one of a few couples at Ithaca College that are officially ending the dating game by tying the knot in the next few years. Despite being young, these students said they are sure of their decision, as it is the natural progression of their relationship.
Luettger said one of the remarkable things about their relationship is everything has had an easy progression, including getting engaged.
"It was just natural," he said. "It was just this is what's supposed to happen now. I don't know how to explain how natural it was — you put shampoo in your hair and say, 'Well I have to rinse it off.' You're not nervous about that."
Senior Alexis McNutt said she feels the same connection with her fiance Michael Unis '08 and is sure of their future marriage — set for April 14, 2012 — because of it.
"It's different from any other relationship I've ever had," she said. "There's some sort of compatibility we just happen to [have]. We live together very well. We kind of function both apart and as a unit, and that's what you want — to be better together and good apart."
Though both couples are sure their relationships will last, this does not mean others are so comfortable with the decision.
Junior Jenna Hollier said she often surprises people when she tells them she is engaged to Justin Fleury, a junior at SUNY-Cortland.
"It's certainly not something our peers expect," she said. "I've met a couple people on campus, and once I was engaged I just sort of kept the eye out for the ring."
Johnson said she and Luettger were ready for the next step long before actually making the commitment, but Johnson's parents were nervous about the idea.
"We had a series of conversations in which they said they wanted us to wait a while," she said. "We talked to them about it over the summer, and they freaked out, which is why we waited."
Luettger said it wasn't until after he talked to Johnson's parents and reassured them of his commitment to Johnson that they were able to start planning their wedding, which they plan to take place in Nicaragua in Fall 2013.
"They were a little nervous at first," he said. "They still are. They needed to hear me say that I am going to protect her and take care of her and provide for her no matter what, by any means necessary, and not hear that this needs to happen because she makes me happy."
Unis said it can be difficult at times to go against what people expect, but he and McNutt have to do what's best for them.
"It can definitely be a challenge to go against the stigma," he said. "But we also have to remember that we are we and they are they."
For his proposal, Unis, who lives in Verona, N.J., arrived in Ithaca on April 1 and brought McNutt to Stewart Park for a picnic. Unis set up a blanket and laid out wine, cheese and pepperoni. When the two were finished eating, Unis had the two draw portraits of each other.
"Mike is furiously scribbling," McNutt said. "Then he flipped it over and it said, 'Will you marry me?' That was really sweet."
Unis said the two have heard comments that they should wait longer before getting married but said he doesn't see a reason to wait.
"The one thing that I always say is the only difference between being so young and waiting 10 years is that I am just choosing to spend the next 10 years with someone rather than waiting until I have everything figured out," he said.
Hollier said she and Fleury began their relationship with the intent of it becoming serious quickly. She said both she and Fleury felt they were at places in their lives where they wanted to settle down with someone.
"That's one of the reasons it progressed faster than traditionally, because we both sort of knew where we were headed and what we were intending," she said. "Both of us were interested in looking toward a long-term relationship that would transition to marriage."
Fleury proposed while Hollier was visiting him in Baldwinsville, N.Y. He blindfolded her and brought her to a park. The two walked together along the trails before Fleury got down on one knee to pop the question.
Hollier said she felt a pull toward Fleury, who she met more than a year ago on the dating site chemistry.com, that made her comfortable saying "yes" April 2.
"It was sort of like everybody tells you you'll know when you know, and that's the way I've felt it's been," she said. "Even though it felt like we had just known each other, it felt like we have known each other and been best friends for a long time."
McNutt said she sees being engaged as simply the next step in their relationship.
"It never felt like we were too young," she said. "It just felt like another part of life, and we just happened to be experiencing it maybe earlier than other people."