It's no New York City, but Ithaca certainly delivers when it comes to pizza. The Ithacan held blind taste-tests to find out which pizza students, faculty and alumni truly think is the best. Five cheese pizzas were ordered from places on The Commons, and 19 taste testers indulged in order to rate each pizza from one to 10 in different categories.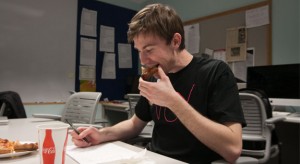 Pizza Aroma
32.9/50 points
Pizza Aroma was the overall favorite, winning in each individual category, including Best Cheese, Best Sauce and Best Crust. Pizza Aroma offers distinctive options such as the Nacho Pizza and vegan pizzas.
For junior Robert Hoyuela, an ideal pizza would have a crispy crust and nicely melted cheese. Hoyuela rated Pizza Aroma as his favorite.
"The cheese was really nice and the crust was good," he said. "It had just the right amount of cheese and sauce, and it wasn't too greasy either."
Pizza Aroma was a winner for ESPN anchor Karl Ravech '87 as well. Ravech said the sample was closest to his ideal pizza.
"I liked the sauce on it the most, and it seemed to have more sauce than the other ones," he said.
Senior Kevin Fish, Student Government Association president, also thought the sauce stood out. He rated it as the highest in the sauce category for its extra strong tomato taste.
The Score Card
Initial reaction 6.6/10, Cheese 6.7/10, Sauce 6.4/10, Crust 6.4/10, General look 6.8/10
Domino's
30/50 points
Regardless of its big name, Domino's was a high-rating pizza in the testing, earning its spot as the second favorite.
Provost Greg Woodward was one taste taster who ended up choosing Domino's as his favorite of the five samples.
"It just had more flavor to me," he said. "The cheese was better."
Domino's changed their recipe in December 2009 with rave reviews.
However, like some of the others who picked Domino's as No. 1, Woodward said he was surprised about his choice.
"I can't believe I picked Domino's as the best one," Woodward said. "That's ridiculous."
Sophomore Rob Flaherty and Fish agreed it was obvious which sample was Domino's during the tasting because of its garlicky crust.
"People don't give Domino's enough credit," Flaherty said. "Domino's is good pizza."
The Score Card
Initial reaction 6.3/10, Cheese 6/10, Sauce 6.1/10, Crust 6.1/10, General look 5.5/10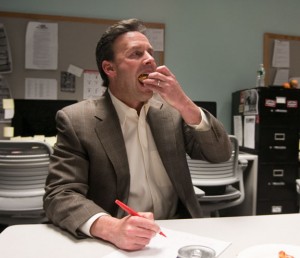 Sammy's
29.7/50 points
A favorite for college students, Sammy's delivers quality pizza late into the night.
Flaherty said even before tasting the five choices Sammy's was his go-to pizza in Ithaca.
"Sammy's is sort of the kingpin," he said. "It's the big name, and overall it tends to be my favorite."
Peter Rothbart, professor of music theory, history and composition, also voted Sammy's as his favorite overall.
"[Sammy's] was my favorite because it's got a little more spice to it," he said. "I like a moderately spiced pizza."
Sammy's was a favorite for Fish, who said he considers himself a pizza snob after studying abroad in Italy.
"The look [of Sammy's] was really good, which helped," he said. "I just realized after I tasted all five that I liked [it] the best. It felt least greasy."
The Score Card
Initial reaction 65.2/10, Cheese 5.9/10, Sauce 5.8/10, Crust 6.1/10, General look 6.7/10
Ameritalia
28.5/50 points

Though several participants cited Ameritalia Pizzeria as their go-to for Ithaca pizza, it only ranked fourth in the tasting.
Flaherty said he believes Ameritalia is a student favorite.
"If there are two pizza places that are duking it out for No. 1, it's Sammy's and Ameritalia," he said.
However, Woodward said his least favorite sample was Ameritalia.
"It was dry and thin, and there was almost no taste," he said. "It tasted really mass-produced — cheap cheese."
Hoyuela was not a fan of Ameritalia either.
"The cheese didn't even taste that good," he said. "It just didn't taste like it should."
Freshman April Mitchell was one of the lone fans of Ameritalia in the tasting.
"I just liked the crust and that there was just a little sauce," she said. "I usually order from Ameritalia late at night with my friends because it's cheap, and it's good."
The Score Card
Initial reaction 6.1/10, Cheese 5.7/10, Sauce 5.2/10, Crust 5.4/10, General look 6.1/10
Napoli's
27.6/50 points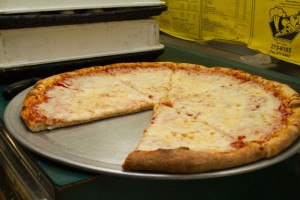 Napoli Pizzeria was voted the least favorite of all the pizza samples, garnering disappointment from the majority of testers.
The unappealing look was a reason for the low rating.
"I really hated [it]," Flaherty said. "It just looked unattractive. The sauce was really weird, and the crust was bad."
Rothbart said he wasn't a fan because it was bland in taste.
"I'm consistent," Rothbart said. "Never liked Napoli's; tastes like Napoli's."
Diane Gayeski, dean of the Park School of Communications, was one taster who was shocked by her rating of Napoli's.
"I was surprised that I didn't like Napoli's better," she said. "I've actually had some of theirs, and I thought it was usually better than that."
Fish joked that he wasn't surprised about his choice.
"Napoli is my least favorite city in Italy, so that makes sense that that lines up," he said.
The Score Card
Initial reaction 5.5/10, Cheese 5.1/10, Sauce 5.7/10, Crust 6/10, General look 5.3/10
The Judges

Sophomore Melanie Burian, senior Kevin Fish, sophomore Rob Flaherty, sophomore Tyler Foster, Dean Diane Gayeski, Mark Gross '88, junior Robert Hoyuela, Stu Katz '83, sophomore Oscar Lee, sophomore Jemin Lee, sophomore Kenneth Li, Jay Linden '72, freshman April Mitchell, Karl Ravech '87, freshman Aimee Rizzo, professor Peter Rothbart, sophomore Matthew Scarpino, freshman Maureen Tant, Provost Greg Woodward