Smooth, deep-toned music wails out of the bell of her saxophone, dancing over the quick, staccato sections of "Meditative" and lingering over its legato sound. The notes are clear and perfectly pitched. For senior Rachel Perry, there is nothing else in the world.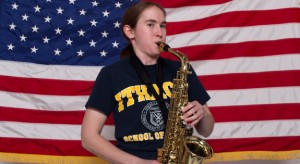 "When I perform, I try to completely immerse myself in the music," she said. "At that moment, nothing else really matters or is more important."
Listen to Perry perform her audition piece
As a performance and music education major, Perry has honed her classical saxophone skills in the Ithaca College School of Music for the past four years, and her hard work has paid off. This June, she'll show off her talent when she plays as the U.S. Army Band's featured soloist in Washington, D.C.
Perry was one of 99 applicants for U.S. Army Band National Collegiate Solo Competition. College undergraduate and graduate students from competitive music programs across the country — such as
Bowling Green State University, Michigan State University and the University of South Carolina — entered for the chance to perform with the band.
As the winner of the competition, Perry will perform in front of an audience of music educators and high-ranking military officials at two of the U.S. Army Band's concerts in June: one at the Rachel M. Schlesinger
Concert Hall in Alexandria, Va., and the other on the west steps of the Capitol.
Perry said she is excited to play and rehearse with talented musical professionals.
"It's going to be so much fun because they're so good," she said. "Not just to be able to work with them, but to be a soloist in front of the band, and work with them for three rehearsals and the concerts."
Contestants submitted CDs of themselves playing a solo of their choosing on their individual instrument. The judges held a blind audition and chose the winner based on outstanding technique, maturity of skill and quality of sound.
Reaching the allegro in the second movement of Paul Creston's "Concerto for Alto Saxophone," Perry's fingers flit across the golden keys, gliding from sixteenth note to sixteenth note with ease. Suddenly, the music slows, and she hangs onto a fermatta before quieting to a gentle calm.
Perry said she chose Creston's piece for her audition because of the instrumental exchange between its three movements.
"It has so much energy, and the interplay between the saxophone and the piano part is really exciting," she said.
Perry, who has been training as a classical saxophonist since middle school, said she felt the musical style suited her technical talents.
Tim Rosenberg, assistant professor of musical performance, commended Perry's talent and passion for music. He initially told Perry about the U.S. Army Band competition.
"I thought she had a really good shot," he said. "She's a really mature player. I can't say that I was surprised that she won."
Rosenberg said while Perry is quiet and reserved, she was confident in her audition piece. He said she likes to let her work speak for itself.
"When she recorded the winning CD, she was very prepared," he said. "She played it through once, and I asked her if she wanted to do it again. She said, 'I could, but I don't think it will be any different.' It turned out her intuition was right."
Staff Sergeant Leigh Lafosse, a clarinet player for the U.S. Army Band, managed the competition's application process. She said the winner receives notable recognition because the national competition is one of a few for solo instrumentalists.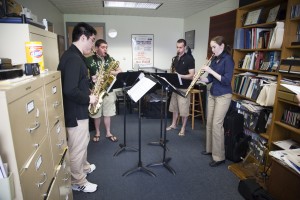 "Being selected as the winner means your name will become recognized on a national scale," Lafosse said. "Whenever you can put a big-name competition on your résumé, you increase your chances of being invited to perform, apply and advance in auditions and job interviews across the country."
Perry hopes the recognition will help her reach her goal of joining the U.S. Navy Band after graduation. She said military bands are one of the best career performance options.
"Saxophone players don't have a lot of performance opportunities in major symphony orchestras," she said. "So the military band is the perfect opportunity, especially for classical performers."
Perry auditioned with 49 other musicians for the U.S. Navy Band this past February, but she wasn't chosen. She said the audition pieces were difficult, and her competition was more talented and experienced than she was.
"I felt that I played fairly well on the solo and excerpts, but the sight-reading was basically impossible," she said. "All of the other finalists were graduate students or teachers. I was the only undergraduate student."
This June, Perry will try out for the U.S. Navy Band again. If accepted, she will enlist in the Navy and complete basic training. While her permanent assignment would be performing with the band, Perry said she could be deployed for combat. But she said she doesn't know if she wants to undergo all the rigorous training if her primary role is playing the saxophone.
"I would be a little hesitant to do that," she said. "The end job would be great, but in order to get there, you have to survive the same intense physical and mental training that all soldiers and sailors go through. It's a lot to go through just to be a musician assigned to play in the band."
Perry's backup plan is to attend the Eastman School of Music at the University of Rochester, where she has been accepted to earn her master's degree in musical performance. She said if she cannot make the U.S. Navy Band by this year's graduation, she would like to continue teaching music.
She has been student teaching at a school in Horseheads, N.Y. As a proponent of music education, Perry has been helping the school's campaign to save the music program. She said she believes all students should have access to a music education.
For Perry, teaching is just a way of spreading the joy of music to students who may not experience it otherwise.
"Music in school has made me a more well-rounded person," she said. "It builds community in working with other people. It's an outlet that I really enjoyed."