Delighted laughter and singing fills the Whalen Center for Music as the cast of Triple Threat Theatre rehearses its latest production, "Thoroughly Modern Millie." A general feeling of camaraderie is evident in the actors. Together, they help one another memorize lines with difficult accents and practice dance routines. Their group dynamic is not unlike the show itself, which premieres at 8 p.m. today in Presser Hall.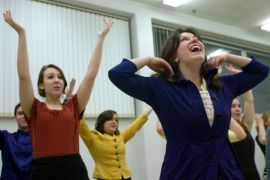 The cast members describe "Millie" as a big, fun and exciting show where the plot centers around the thrilling vibe of New York City. It centers on the Priscilla Hotel, which is run by the "villain" Mrs. Meers, played by freshman Colleen Gburek. Mrs. Meers, a flamboyant once-upon-a-time actress, is selling young orphans who check into her hotel into white slavery all the way in Hong Kong. In order to keep up with her contrived identity, Mrs. Meers must feign a Chinese accent, a character trait that Gburek finds as one of her challenges. Gburek said she loves playing such an exuberant character that adds to the humor of the show.
"What I love most about this show is how funny it is," she said. "I love doing comedy."
Millie, played by junior Elysia Shutrump, is a young woman who checks into the Priscilla Hotel so that she can live in New York City and achieve her dream of marrying a wealthy man. She plans to do so by seducing her boss, Mr. Graydon, played by freshman Garrett Keefe. Her plan goes astray when she meets the poor, yet charming, Jimmy Smith, played by sophomore Justin Colombo. Colombo describes his character as a playboy with a heart of gold.
"He is a young guy that is exploring the finery that is out there in his life," he said. "He is like an urban explorer of the 1920s."
The two have an inadvertent encounter when Millie accidentally trips him on the street, and their colorful personalities clash, though Jimmy is drawn to her. Colombo said he literally falls in love with her. Then, Millie is faced with the old-fashioned woe of deciding between marrying for love — Jimmy — or for money — her rich boss.
Freshman stage manager Lucy Gram said "Millie" encompasses singing, dancing and acting, which requires the cast to have a broad range of talent. Colombo expressed his enthusiasm for working with such a skilled group of people.
"It really blows my mind to see the kind of stuff everyone brings to the table," he said.
Triple Threat Theatre is a group completely run by students. Cast members said working with people their own age has given them room to be creative.
"It's been a really cool collaboration where we've felt able to explore, but also have great leaders," Shutrump said.
Once a student has worked with any aspect of a Triple Threat show, he or she is able to suggest a show for production. This is what sophomore director Stacy Sauppe did when she suggested "Millie." She said "Millie" is the reason why she fell in love with musical theater.
"I look forward to every rehearsal," Sauppe said. "We like to have fun and still get the work done."
Dance director and choreographer sophomore Lindsay Ricketts said she incorporates '20s style jazz, tap and waltz into routines.
"Dancing is such a big part of the show that it is really quintessential to the music," she said. "The music itself is very upbeat and bright, and it would be silly if they just stood there."
Brown said with the current state of the economy and all the negative things going on in the world, this is a good show to escape to and experience some fun.
"This show is really just a good time, it will bring positivity to anybody who comes to see it," she said. "Theater is such an important outlet during negative times for people to go and escape, and this is a great show to escape to because it is in a different time when everything was free and easy."
"Thoroughly Modern Millie" premieres at 8 p.m. today and runs through April 4th.