When the curtain rises, mild-mannered senior Jeremy Jordan turns into an animal. At a rehearsal for Ithaca College Theatre's "The Count of Monte Cristo" last month, his voice rises, syllables become crisper and movement develops into elegance. A sparkle in his eye glistens. As the center of attention, he is hard to ignore.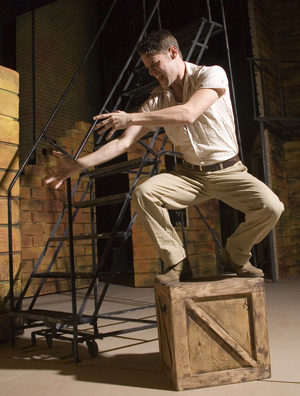 But Susan Long never thought her grandson, Jordan, would turn out to be a great actor. He didn't have a confident stage presence when Long, the youth community theater director at Harbor Playhouse in Corpus Christi, Texas, recruited him for shows.
"When I had him try out, he was shy to begin with," she said. "But we found out he could sing, and he soon got bit by the acting bug."
Jordan, a musical theater major, will take on his third Ithaca College Main Stage lead this April. The show is a new musical adaptation of Alexandre Dumas' classic novel, "The Count of Monte Cristo," written by senior Brett Boles.
Drama majors at the college traditionally land one lead in four years. But after auditioning for each role, Jordan has taken center stage as Danny Zuko in "Grease" and Bobby Strong in "Urinetown," and he got the lead in "The Count of Monte Cristo," to run Tuesday, and from next Thursday to April 28.
"I don't feel like I don't deserve it," he said. "I auditioned well and I earned the role."
Jordan will portray Edmond Dantès, a vengeful 19th-century sailor who is imprisoned for nearly 20 years by the deceitful actions of close friends. The character posed particular challenges for Jordan.
"The show is so deep-rooted in the inner pain of who [Dantès] was before [prison], this happy young guy, and then as a cold man afterwards," he said. "It's the darkest role, the biggest role, the hardest role I can ever imagine playing."
As Dantès' personality was developed by a long stint in prison, Jordan's search for stardom has brought him a long way from his grandmother's community theater. Sports were an early focus of Jordan's, but after a car accident in seventh grade left him unable to compete, Jordan focused his energy on singing in choir and theater.
High school became a breeding ground for his creativity, and junior year found him in a life-changing role as a mute character in the musical "The Fantasticks." For the first time, Jordan was not able to rely on his voice, and instead had to find nuance in a complicated play.
"[The role] forced me to find a part of myself, as an actor, that could express things without singing and create a world of my own," he said. "Ever since, I've been really impassioned about being on the stage."
Jordan came to the college in order to hone his craft, quickly gaining the necessary confidence.
"Within the first year of my experience [at the college], I grew 500 percent as an actor," he said. "I just needed a few catalysts, a little bit of advice and the guidance to find my way. I've been growing ever since."
The college journey led Jordan through a variety of productions, which paved the way from lesser parts to starring roles in musicals both massively famous ("Grease") and critically acclaimed ("Urinetown").
Boles has collaborated with Jordan for more than three years. Boles said his musical is perfectly complemented by Jordan's performance.
"Jeremy's brilliant," Boles said. "He has a great tendency to connect with the text, which is the most important part from my standpoint. He is delving deep into his character with great control and is doing better every day."
Senior Marisa Dargahi, a longtime friend of Jordan who stars opposite him in "The Count of Monte Cristo," said her co-star's ability to truly become his character makes for a convincing experience.
Because the Main Stage performance marks the play's debut, Jordan has also developed his improvisational skills by developing a musical character that has not been previously acted.
"It's exciting to find the emotions and what you want to do with the character," he said. "Although you really have to stick to the playwright's vision, you can manipulate and play with the personality."
After "The Count of Monte Cristo," Jordan has numerous endeavors planned. He hopes to be discovered by an agent in May at a New York showcase for graduating acting and musical theater majors. From there, he will take the lead in the Virginia premiere of Bill C. Davis' "Austin's Bridge," featuring music composed by Boles. Jordan then anticipates a move to New York City in order to pursue his dream.
"I'm really anxious and I'm really scared," he said. "But I believe, and I think you have to, that I have something unique to offer and that I can find my way apart from the norm."