When senior Ben Fankhauser was young, he would stand outside the stage door to theaters in his hometown Cleveland, Ohio, after a show finished with a Sharpie and his program. He would wait in the freezing cold to get the cast and director's autographs.
"I kid you not — I was a nerd," he said. "I would get every Playbill signed by every touring company. If it was 'Blue's Clue's Live' I would get them to sign."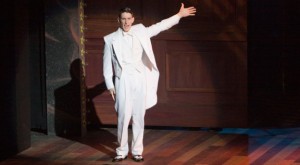 Now Fankhauser is the one being asked for his autograph.
Last year Fankhauser, a musical theater major, left Ithaca College to be a part of the 2009-10 national tour of the Broadway show "Spring Awakening." He returned this year and plans to graduate on time with his class.
Fankhauser got his first taste of fame one night before he had taken over the role of Ernst, the naïve boy who falls for male classmate
Hanschen. Fans of the musical found out he was joining the cast, and at the end of the show a young audience member nervously asked for his autograph.
"To be on the other end of that was completely
surreal," he said. "I felt awesome — like people were looking up to me. And I felt like I was inspiring, which is what I want to do."
Based on the play written in 1891 by Frank Wedekind and set to music by Duncan Sheik with lyrics by Steven Sater, "Spring Awakening" follows a group of teenagers in late 19th century Germany as they grow up and discover sex.
Becoming a part of the show was a lengthy process though. Fankhauser first auditioned for the original Broadway production in 2007. Casting directors called him back multiple times over four years. Fankhauser said his love of the musical kept him going through the process.
"[Ernst] is such this completely young vulnerable and clueless person — it's funny how clueless he is," Fankhauser said. "So it was a part I really wanted to do and a show I really wanted to be a part of. It was an equity show and it was a tour, and all those things made me want to keep striving for my dream."
When he got the part, he joined the cast after the first year in its two-year run. The tour disrupted plans he had to study in London, but Fankhauser said once the shock settled in,  he was able to enjoy the fact that he achieved some of his dreams before turning 21.
"You just feel this incredible amount of gratitude," he said. "I just started feeling so incredibly lucky — like sappy lucky — like 'Oh my god you guys, I love every one of you so much.' Just completely blessed and completely thankful."
On tour Fankhauser performed eight shows a week, one every night from Tuesday to Sunday with two matinee shows on weekends. Monday, the cast's day off, was usually spent traveling by bus or plane to the next city.
Fankhauser said the packed schedule was exhausting at times, but when he stepped onto the stage, the energy he felt from the audience always rejuvenated him.
"When you get in front of 2,000 people or whatever is in the house, and the lights are on your face and everyone is just hanging on every word that you're saying, it's this energy to me that I could be dying, and it would bring me back to life," he said. "That's what I live on. That's why I do it."
Castmate Anthony Lee Medina, who played Otto, another classmate, said Fankhauser was always able to put any problems aside to perform.
"He knew how to get through a performance, and no one would know that he was even remotely under the weather or not feeling up to par," he said.
Medina said Fankhauser brought a new perspective to the character after Ben Moss, who played Ernst previously on the tour.
"He completely changed the role," he said. "The fact that he was older and he had more maturity to him and his personality, the role had a maturity to it."
Fankhauser has been in theater since middle school. He performed in shows at the college, including "A Midsummer Night's Dream," "A New Brain," "Metamorphoses" and most recently he played the MC in "Chicago."
Norm Johnson, associate professor of theater arts, directed Fankhauser sophomore year in "A Midsummer Night's Dream." Johnson said he noticed a change in Fankhauser's stage presence in "Chicago" after his Broadway run.
"He just seemed a whole lot more confident in that role and how he really took the stage," he said.
Fankhauser said being a part of "Spring Awakening" showed him how to use the skills he learned at the college — "his tools."
"I get to walk out into the world with a toolbox," he said. "I haven't walked out into the world as the best carpenter there's ever been. I just started. I just got my tools, and I get to learn by practicing building stuff."
Fankhauser said finding an industry job will still be difficult, despite his experience.
"In this business it is so much about just persistence in auditioning," he said. "Sometimes you don't get jobs for months. It's a matter of I'm talented and I know that, and I just have to keep doing it, doing it, doing it until the stars align."
Fankhauser said he still wanted to return to the college to finish his degree after the tour finished, and he isn't wasting any time. He took summer classes, is taking extra classes this semester and next and plans to take winter session courses to finish on time.
"I didn't want to spend another year in school because I had learned so much on the road," he said. "And I learned so much here at school, but I didn't learn anything until I stepped out onto that stage."
Fankhauser said he wanted to graduate on time so that he could re-enter into the professional realm of theater with his classmates.
"It was a very important bond that I wanted to go back to because I love all these people dearly, and we are all going to be in the real world together, so I kind of wanted to enter with them as opposed to by myself," he said.