Ronica V. Reddick '03 returns to Ithaca this month to play Barbara in "boom" at the Kitchen Theatre Company.  A native of Syracuse and graduate of Ithaca College's acting program, she performed in shows at the college including "November Girls," "The Colored Museum" and "Goodnight Desdemona (Good Morning Juliet)."  Since graduation, her credits include several regional theaters in New York City, the New York Musical Theatre Festival, and the films "Sex & the City 2" and "Sexual Dependency."  In her free time, she sings in the country, rock and blues band Take My Lips, brushes up on her French and makes origami.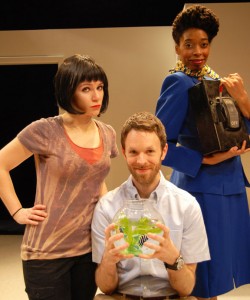 Contributing Writer Lucy Walker spoke with Reddick about studying theater in Ithaca and London, working at KTC and why college students should see "boom."
Lucy Walker: What originally drew you to theater?
Ronica V. Reddick: I've always done some theater. When I was in elementary school, we always had to do theatrical productions every year which I thoroughly enjoyed, and then when I got to high school, I started doing acting competitions. … I applied to a bunch of different colleges, not all with the idea of going to study theater in a particular place, but I ended up in Ithaca.  I was exploratory for my first year, and it just seemed like the right thing to do was to try out the theater department.  They had a really strong program, and I was really interested in the arts, so I got into the program and I haven't looked back.
LW: What were your best experiences at Ithaca?
RR: Probably my best experiences were connected to the theater department, going to London and studying for a semester there.  We were just immersed in British culture and their theater culture, so we saw a lot of theater, probably more theater than I think I'll probably ever see in my life — every week you went to multiple shows.  That was really valuable for me as well as being in a different country and having a safe way to explore. … That's one of my most treasured memories — that semester abroad, that's a big one, and then of course, everything with Dillingham.  It felt like we were in a conservatory, even though we were in a liberal arts college, because everything was just so tight-knit, and we spent most of our time with other theater majors. … All of my best memories are tied to that.
LW: Do you have any advice to theater students graduating from Ithaca as to how to get their foot in the door?
RR: I would say the first thing you need to do after graduating and moving to the city is to just sort of establish your life as a person outside of theater.  Get an apartment and a job and get a hold of the city first, because the first two years are really hard.  Before I think I could even worry about finding an agent and booking lots of stuff, I had to get my basic needs taken care of.  So I would say definitely focus on you as a person first so you have something, to offer up when you walk into the audition room.  And then I would say, audition, audition, audition.  If you don't have representation, go to auditions, meet casting directors, because that's the best way to get seen, build relationships, and eventually book work.
LW: You're based in New York City.  What drew you out of the city and back up to Ithaca to work on "boom?"
RR: Rachel Lampert. … She sent me an email.  I'd worked at the Kitchen when I was an undergrad, and my first year out of college, I came back and did a show.  She sent me an email and she told me a little bit about the show and which character they were interested in seeing me read for.  I did some research on the show, it looked really cool and interesting.  She sent me the script, I liked the script, and so I went and I auditioned.  When they offered it to me, it just made sense, it was good timing for me, schedule wise, and a great show and a great role. I love the Kitchen.  I think the Kitchen is a really special theater, with a lot to offer the community, so I was very happy to go back.  And to see the new facility. The new space is incredible. … It's just stunning and state-of-the-art, it's up-to-date, it's gorgeous. It rivals some theaters in New York.
LW: What's your favorite part of the story of "boom?"
RR: Without giving anything of the plot away. I would say that that was the point in the play where Barbara is fully integrated into what's happening with the other two characters on stage.
LW: What do you like about working at the Kitchen Theatre?
RR: It's just great to be back in that community. … It's a company of actors, some who are coming back from New York [City], some who live here in Ithaca.  It's nice to be back with them because I do have so many relationships with people here and that's one of the most rewarding parts of doing theater is that you come together with a group of people and you build trust and then you build the show.  So it's nice to already have the trust and the experience there and then to build something new.
LW: Why should college students see "boom?"
RR: I think a lot of the philosophical questions that the play asks about, "What does my life mean," "What is our purpose," "Is everything random or is there some kind of fate or plan" are questions that as a college student I was asking myself as I prepared to go into the world.  So I think there's a lot of relevance, that you'll connect personally to what these characters are going through and that's the most exciting part.  Then on another level, if you study biology or you are at all interested in the sciences, you'll finally see a piece of theater that is relevant to what you study, and it might be fascinating and fun for you, so there's a little something for everyone.