Part of what gives Ithaca, N.Y., its reputation for diversity and liberal leanings is its unusually large population of college students. Both Ithaca College and Cornell University attract students from a variety of backgrounds.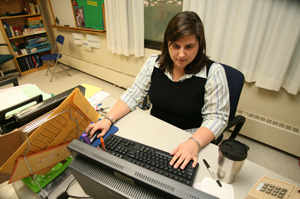 While the majority of students just pass through the area, not everyone decides to leave after graduation. Ithaca has a contingent of graduates who extend their stay for at least a year.
Andrew Bernier '07 graduated from Ithaca College with a degree in environmental studies but is spending one more year in Ithaca before joining Teach for America. Bernier said his favorite aspects of Ithaca are its independent businesses, progressive politics and beauty.
"Anywhere else I go is just boring chains over and over and over again," he said. "Another big reason I stay here is the natural beauty. I love it — the gorges, the lake, the hiking. I'm finding … there are a lot more hidden treasures in the Ithaca area and if you just try and look, you'll stumble upon them."
Cornell's graduate school also appeals to recent graduates. Becky Bordonaro '06 said Cornell's location in a familiar town influenced her final decisions about graduate school.
"Because I was already living in Ithaca, it was really easy to meet the faculty, look at the facilities, get involved and get a foot in the door," Bordonaro said.
In addition to continuing studies, many students are attracted by the variety of opportunities for starting a professional life.
Gina Evers '05, a residence director at the college, said her favorite thing about being a student at the college was the opportunities for academic growth through connections with professors, a supportive atmosphere and extra- and co-curricular activities. Now, as a professional, she appreciates the opportunities available for career growth.
"I've presented a variety of sessions for the Student Leadership Institute and for RA training, and I did a session for Sex Fest for [Residence Hall Association] last year," Evers said. "Having those opportunities to grow professionally in the same environment where I was a student is a really neat dynamic to have."
Many people without plans to stay in town do end up staying, often because of a job offer. The offers are not always in a person's field of study, like in the case of Deb Mohlenhoff '92, a television-radio graduate and the coordinator of community service and leadership development at the college.
"I wanted to be Katie Couric," Mohlenhoff said. "I wanted to be on-air talent for a major news company and I did not plan to stay here originally."
In the end, Mohlenhoff was able to adapt some of her broadcast skills and use them in her current position. She said she is happy with the direction her career has gone and is "not going anywhere."
In addition to working with the Center for Student Leadership and Involvement, Mohlenhoff also helped form a group called Ithaca Forward, a network of young professionals and recent college graduates focused on staying in the city, finding appropriate jobs and meeting other new professionals seeking work in their own fields.
"If you look at the statistics alone, the number of people that are set to retire just from Cornell University in … the next 10 years is staggering," Mohlenoff said. "It's almost 600 people, 600 jobs that are going to become available."
Mohlenhoff said the main reason people leave is because of the lack of jobs in Ithaca for people with a college degree. This is reflected by the many post-graduates who stay in Ithaca but only plan to do so for a few years.
"I don't think Ithaca is a forever place, for me at least," Evers said. "It is some place that I think I would like to have a summer house on the lake to come and visit every summer, but I feel as though there's more challenge out there for me to overcome and to learn from than I can receive in Ithaca."
Bernier said he is very happy with the practical experience he is getting by staying a fifth year and said he has "grown tenfold" in his time here. Had he gone somewhere else, Bernier said, he would not be as well-rounded and accepting as he is now.
"This place is its own world, and sometimes I feel like I'm in delusion-land when I'm out here," he said. "When people's family and outside friends come here, I see their mannerisms and I see their reactions and … a lot of times they'll be put off by something they see in Ithaca, whereas I see it to be very commonplace now."